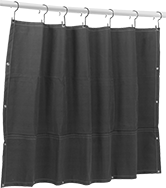 The vinyl coating on these curtains withstands oil. Curtains are washable.
Flame-

and

Heat-Resistant

Blankets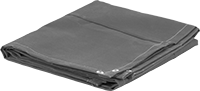 Silicone-Coated
Fiberglass
Blankets are for intermittent contact with flames and hot surfaces.
Fiberglass blankets are best for stress relief applications. Wrap them around a hot metal part to insulate it and slowly cool it to avoid stress cracks and fractures. They can also be used in medium-duty welding applications, since they will protect against sparks and spatter. Silicone-coated fiberglass blankets have added wear and oil resistance.
Oil-

and

Heat-Resistant

Silicone-Coated

Fiberglass Fabric