System of Measurement

System of Measurement

For Use Outdoors

For Use Outdoors
RoHS (Restriction of Hazardous Substances)

RoHS

(Restriction

of
Hazardous

Substances)
DFARS (Defense Acquisition Regulations Supplement)

DFARS

(Defense

Acquisition

Regulations

Supplement)
Metal Corner Guards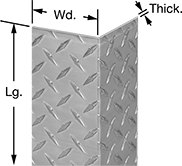 2
These metal guards provide more impact protection than plastic guards. Commonly used in warehouse and manufacturing areas, they protect corners on walls and other surfaces from impact.
Aluminum guards are lightweight and offer good corrosion resistance.
Glue-on guards require contact adhesive to adhere to surfaces. Their temperatue range depends on the adhesive you use.
For technical drawings and 3-D models, click on a part number.