About Accident Prevention Signs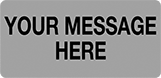 Specify a message to identify equipment and materials. For English/Spanish labels, please specify the message in both languages.
For polyester, please specify four lines maximum (up to 15 characters per line, including spaces). Minimum order is 50.
For vinyl, please specify three lines maximum (up to 34 characters total, including spaces). Characters will decrease in size as the message increases in length.
Reflective labels increase visibility in low-light conditions.
Made-to-Order

California Proposition 65 Signs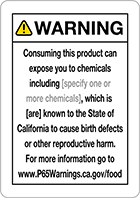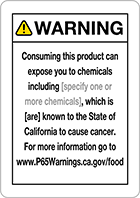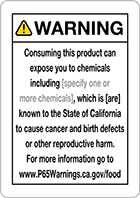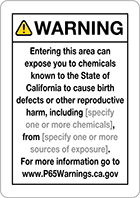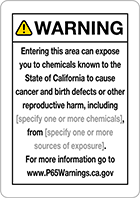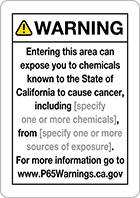 Specify one or more chemicals known to cause cancer or birth defects and other reproductive harm. To specify a chemical, use the exact wording provided on California's Proposition 65 list of chemicals (for a full list of chemicals, please visit www.oehha.ca.gov/proposition-65/proposition-65-list). For signs that require a source of exposure, please also specify one or more areas where the chemical occurs. There are no character limits.
Ht.

Wd.

Thick.

Fasteners
Included
Number
of Holes
Hole


Dia.

1-5

6-Up

Warning—

Consuming this Product Can Expose You to Chemicals Including

___,

Known to the

State of California to Cause Birth Defects

(English)

Adhesive

Back—

Vinyl Plastic

10"
7"
0.004"
__
__
__
0000000
00000
00000

With Mounting

Holes—

Aluminum

10"
7"
0.032"
No
4

3/16

"
0000000
00000
00000

With Mounting

Holes—

Polyethylene Plastic

10"
7"
0.055"
No
4

3/16

"
0000000
00000
00000

Warning—

Consuming this Product Can Expose You to Chemicals Including

___,

Known to the

State of California to Cause Cancer

(English)

Adhesive

Back—

Vinyl Plastic

10"
7"
0.004"
__
__
__
0000000
0000
0000

With Mounting

Holes—

Aluminum

10"
7"
0.032"
No
4

3/16

"
0000000
00000
00000

With Mounting

Holes—

Polyethylene Plastic

10"
7"
0.055"
No
4

3/16

"
0000000
00000
00000

Warning—

Consuming this Product Can Expose You to Chemicals Including

___,

Known to the

State of California to Cause Cancer and Birth Defects

(English)

Adhesive

Back—

Vinyl Plastic

10"
7"
0.004"
__
__
__
0000000
0000
0000

With Mounting

Holes—

Aluminum

10"
7"
0.032"
No
4

3/16

"
0000000
00000
00000

With Mounting

Holes—

Polyethylene Plastic

10"
7"
0.055"
No
4

3/16

"
0000000
00000
00000
Ht.

Wd.

Thick.

Fasteners
Included
Number
of Holes
Hole


Dia.

1-5

6-Up

Warning—

Entering this Area Can Expose You to Chemicals Known to the State of California to

Cause Birth Defects or Other Reproductive

Harm,

Including

___,

from ___

(English)

Adhesive

Back—

Vinyl Plastic

18"
12"
0.004"
__
__
__
0000000
000000
000000

With Mounting

Holes—

Aluminum

18"
12"
0.032"
No
4

3/16

"
0000000
00000
00000

With Mounting

Holes—

Polyethylene Plastic

18"
12"
0.055"
No
4

3/16

"
0000000
00000
00000

Warning—

Entering this Area Can Expose You to Chemicals Known to the State of California to

Cause Cancer and Birth Defects or Other Reproductive

Harm,

Including

___,

from ___

(English)

Adhesive

Back—

Vinyl Plastic

18"
12"
0.004"
__
__
__
0000000
00000
00000

With Mounting

Holes—

Aluminum

18"
12"
0.032"
No
4

3/16

"
0000000
00000
00000

With Mounting

Holes—

Polyethylene Plastic

18"
12"
0.055"
No
4

3/16

"
0000000
00000
00000

Warning—

Entering this Area Can Expose You to Chemicals Known to the State of California to

Cause

Cancer,

Including

___,

from ___

(English)

Adhesive

Back—

Vinyl Plastic

18"
12"
0.004"
__
__
__
0000000
00000
00000

With Mounting

Holes—

Aluminum

18"
12"
0.032"
No
4

3/16

"
0000000
00000
00000

With Mounting

Holes—

Polyethylene Plastic

18"
12"
0.055"
No
4

3/16

"
0000000
00000
00000