Plasma/Oxyacetylene

Torch Cutting Guides

Insert a plasma or oxyacetylene torch in the guide for balance and stability when cutting straight, circular, and irregular shapes. The guide pivots on the centering pin and has a universal bushing that accepts all cutting torches.
Cutting Pattern

Min.

Max.

Each
Circle, Left Curves, Right Curves, Straight

5/8

"
39"
0000000
000000
Cutting Guides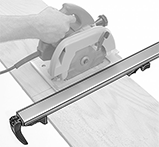 Clamp one of these guides onto your workpiece to make straight cuts. Use them with circular saws, jigsaws, and routers. They fit multiple workpiece sizes.
Straightedges

Square Edge

Beveled Edge
Use these highly accurate straightedges as a guide to scribe and cut straight lines and to check surface straightness. Accuracy is the straightness tolerance over the entire length of the straightedge.
Aluminum is lightweight.
Stainless steel is corrosion resistant.
Lg.

Wd.

Thick.

Accuracy
Hole


Dia.

Each

Square Edge

Steel

12"
1

15/32

"

5/32

"
-0.0005" to +0.0005"
__
0000000
000000
24"
1

15/32

"

5/32

"
-0.001" to +0.001"
__
0000000
00000
36"
2

15/32

"

7/32

"
-0.0015" to +0.0015"

1/4

"
0000000
000000
48"
2

15/32

"

7/32

"
-0.002" to +0.002"

1/4

"
0000000
000000
72"
3

1/8

"

9/32

"
-0.003" to +0.003"

1/4

"
0000000
000000

Aluminum

24"
2"

1/4

"
-0.005" to +0.005"

1/4

"
0000000
00000
36"
2"

1/4

"
-0.005" to +0.005"

1/4

"
0000000
00000
48"
2"

1/4

"
-0.005" to +0.005"

1/4

"
0000000
00000
60"
2"

1/4

"
-0.005" to +0.005"

1/4

"
0000000
000000
72"
2"

1/4

"
-0.005" to +0.005"

1/4

"
0000000
000000
96"
2"

1/4

"
-0.005" to +0.005"

1/4

"
0000000
000000
120"
2"

1/4

"
-0.005" to +0.005"

1/4

"
0000000
000000

Stainless Steel

24"
2

1/16

"

17/64

"
-0.001" to +0.001"
__
00000000
000000
36"
2

1/16

"

17/64

"
-0.0015" to +0.0015"

1/4

"
00000000
000000
48"
2

9/16

"

17/64

"
-0.002" to +0.002"

1/4

"
00000000
000000
60"
3

1/16

"

5/16

"
-0.0025" to +0.0025"

1/4

"
00000000
000000
72"
3

1/64

"

11/32

"
-0.003" to +0.003"

1/4

"
00000000
000000
96"
3

17/64

"

11/32

"
-0.004" to +0.004"

3/8

"
00000000
00000000

Beveled Edge

Steel

12"
1

15/32

"

5/32

"
-0.0005" to +0.0005"
__
0000000
00000
24"
1

15/32

"

5/32

"
-0.001" to +0.001"
__
0000000
000000
36"
2

15/32

"

7/32

"
-0.0015" to +0.0015"

1/4

"
0000000
000000
48"
2

15/32

"

7/32

"
-0.002" to +0.002"

1/4

"
000000
000000
72"
3

5/32

"

9/32

"
-0.003" to +0.003"

1/4

"
0000000
000000
96"
3

1/4

"

11/32

"
-0.004" to +0.004"

3/8

"
000000
000000
120"
3

17/64

"

11/32

"
-0.005" to +0.005"

3/8

"
000000
000000

Stainless Steel

24"
2

1/16

"

17/64

"
-0.001" to +0.001"
__
00000000
000000
36"
2

1/16

"

17/64

"
-0.0015" to +0.0015"

1/4

"
00000000
000000
48"
2

9/16

"

17/64

"
-0.002" to +0.002"

1/4

"
00000000
000000
60"
3

1/16

"

5/16

"
-0.0025" to +0.0025"

1/4

"
00000000
000000
72"
3

1/64

"

11/32

"
-0.003" to +0.003"

1/4

"
00000000
00000000
96"
3

17/64

"

11/32

"
-0.004" to +0.004"

3/8

"
00000000
00000000