Compression Springs
As you squeeze a compression spring, it pushes back to return to its original length. Rate is the amount of force required for every inch of compression or, for metric springs, millimeter of compression. The higher the rate, the harder it is to compress the spring.
Springs with closed and ground ends sit flat, so they won't buckle.
For technical drawings and 3-D models, click on a part number.
OD
ID

Dia.

Compressed


Lg.

@

Max.

Load

Max.




Load,

lbs.

Rate,




lbs./in.

Material
End Type

Pkg.




Qty.

Pkg.

0.375"
0.291"
0.042"
0.36"
3.1
7.3
Brass
Closed and Ground
12
0000000
000000
Door Kick Plates
Also known as door plates, armor plates, and mop plates, kick plates protect the base of a door from damage caused by foot traffic and equipment. Choose a kick plate with a width that is 2" narrower than the overall width of the door to prevent interference with the door's opening and closing. All can be used outdoors.
Screw-in plates mount with fasteners.
Brass and bronze plates provide a more decorative finish than other plates. They have good corrosion resistance and are nonmagnetic.
For technical drawings and 3-D models, click on a part number.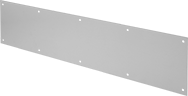 Screw In
Gauge Vibration Dampers
Also known as snubbers, these reduce the flow of fluids into your pressure gauge to damper vibration, pulsation, and pressure spikes. The smaller the orifice, the greater the reduction in flow.
Dampers with filter disc prevent damage to your gauge by trapping particles in your process media.
Dampers with five orifice inserts allow you to change the level of vibration and pressure damping as needed; remove the set screw to exchange inserts and then replace the set screw to use.

Damper
Inlet
Outlet

Max.




Pressure,


psi

Ht.

Orifice


Dia.

Includes
Each

Brass

1/8

NPT Male

1/8

NPT Female
2,000

7/8

"
0.004"
__
0000000
00000

1/8

NPT Male

1/8

NPT Female
2,000

7/8

"
0.004", 0.008", 0.015"
__
0000000
0000

1/8

NPT Male

1/8

NPT Female
2,000

7/8

"
0.008"
__
0000000
0000

1/8

NPT Male

1/8

NPT Female
2,000

7/8

"
0.015"
__
0000000
0000

1/4

NPT Male

1/4

NPT Female

2,000
1

1/4

"
0.004"
__
0000000
00000

1/4

NPT Male

1/4

NPT Female

2,000
1

1/4

"
0.004", 0.008", 0.015"
__
0000000
00000

1/4

NPT Male

1/4

NPT Female

2,000
1

1/4

"
0.008"
__
0000000
00000

1/4

NPT Male

1/4

NPT Female

2,000
1

1/4

"
0.015"
__
0000000
00000

1/4

NPT Male

1/4

NPT Female

6,000
1

9/16

"
__
Five Orifice Inserts (0.179", 0.180", 0.183", 0.185", and 0.189")
000000
00000

1/2

NPT Male

1/2

NPT Female

2,000
1

11/16

"
0.004"
__
0000000
00000

1/2

NPT Male

1/2

NPT Female

2,000
1

11/16

"
0.004", 0.008", 0.015"
__
0000000
00000

1/2

NPT Male

1/2

NPT Female

2,000
1

11/16

"
0.008"
__
0000000
00000

1/2

NPT Male

1/2

NPT Female

2,000
1

11/16

"
0.015"
__
0000000
00000

Damper With Filter Disc
Inlet
Outlet

Max.




Pressure,

psi

Ht.

Orifice


Dia.

Removes Particle Size
Down

To,

microns
Each

Brass

1/8

NPT Male

1/8

NPT Female
3,000
1

1/8

"

3/16

"
000000
00000

1/4

NPT Male

1/4

NPT Female

10,000
1

1/2

"

1/4

"
000000
00000

1/2

NPT Male

1/2

NPT Female

10,000
2

3/16

"

1/4

"
000000
00000