Department and Room Signs

Ht.

Wd.

Thick.

Fasteners
Included
Number
of Holes
Hole


Dia.

Each

Adhesive

Back—

Polyester Plastic

7"
10"
0.01"
No
__
__
0000000
00000
10"
14"
0.01"
No
__
__
0000000
00000

With Mounting

Holes—

Polystyrene Plastic

7"
10"
0.059"
No
4

7/32

"
0000000
0000
10"
14"
0.059"
No
4

7/32

"
0000000
00000

With Mounting

Holes—

Aluminum

7"
10"
0.035"
No
4

7/32

"
0000000
00000
10"
14"
0.035"
No
4

7/32

"
0000000
00000
Please Leave Deliveries Here (English/Spanish)
Receiving and Shipping (English)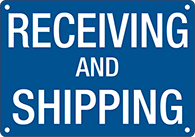 Ht.

Wd.

Thick.

Fasteners
Included
Number
of Holes
Hole


Dia.

Each

With Mounting

Holes—

Steel

14"
20"
0.05"
No
4

1/4

"
0000000
000000
Receiving Dept. (English)

Ht.

Wd.

Thick.

Fasteners
Included
Number
of Holes
Hole


Dia.

Each

With Mounting

Holes—

Steel

4"
24"
0.05"
No
4

1/4

"
0000000
000000

Ht.

Wd.

Thick.

Fasteners
Included
Number
of Holes
Hole


Dia.

Each

With Mounting

Holes—

Steel

4"
24"
0.05"
No
4

1/4

"
0000000
000000

Ht.

Wd.

Thick.

Fasteners
Included
Number
of Holes
Hole


Dia.

Each

Adhesive

Back—

Polyester Plastic

7"
10"
0.01"
No
__
__
0000000
00000
10"
14"
0.01"
No
__
__
0000000
00000

With Mounting

Holes—

Polystyrene Plastic

7"
10"
0.059"
No
4

7/32

"
0000000
0000
10"
14"
0.059"
No
4

7/32

"
0000000
00000

With Mounting

Holes—

Aluminum

7"
10"
0.035"
No
4

7/32

"
0000000
00000
10"
14"
0.035"
No
4

7/32

"
0000000
00000
Write-On

Department and Room Signs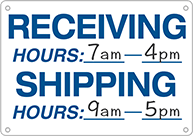 Provide receiving and shipping hours in the blank spaces. Write on these signs using a permanent marker or use adhesive-back characters up to 2" high (sold separately).
Ht.

Wd.

Thick.

Material
Mount Type
Fasteners
Included
Number
of Holes
Hole


Dia.

Each

Receiving

Hours:

__ Shipping

Hours:

__

(English)

14"
20"
0.051"
Steel
With Mounting Holes
No
4

1/4

"
0000000
000000
Directional Department and Room Signs
Parking Signs
Make parking restrictions clear to drivers.
Designed for long-lasting outdoor use, aluminum signs won't corrode or fade when exposed to harsh weather. In addition to resisting cracking and chipping, they stand up to chemical splashes.
Reflective signs increase visibility in low-light conditions and at night. Those that meet ASTM D4956 Type I requirements comply with reflective standards for street, highway, construction-zone, and delineator signs.
Curbside Delivery Parking Only (English)—Green Message

Ht.

Wd.

Thick.

Fasteners
Included
Number
of Holes
Hole


Dia.

Specifications Met
Each

With Mounting

Holes—

Aluminum

18"
12"
0.063"
No
2

3/8

"
__
0000000
000000
24"
18"
0.08"
No
2

3/8

"
__
0000000
00000

With Mounting

Holes—

Reflective Aluminum

18"
12"
0.08"
No
2

3/8

"
ASTM D4956 Type 1
0000000
00000
24"
18"
0.08"
No
2

3/8

"
ASTM D4956 Type 1
0000000
00000
Curbside Pick Up Parking (English)—Green Message

Ht.

Wd.

Thick.

Fasteners
Included
Number
of Holes
Hole


Dia.

Specifications Met
Each

With Mounting

Holes—

Aluminum

18"
12"
0.063"
No
2

3/8

"
__
0000000
000000
24"
18"
0.08"
No
2

3/8

"
__
0000000
00000

With Mounting

Holes—

Reflective Aluminum

18"
12"
0.08"
No
2

3/8

"
ASTM D4956 Type 1
0000000
00000
24"
18"
0.08"
No
2

3/8

"
ASTM D4956 Type 1
0000000
00000
Curbside Pickup Here (English)—White Message

Ht.

Wd.

Thick.

Fasteners
Included
Number
of Holes
Hole


Dia.

Each

With Mounting

Holes—

Aluminum

14"
10"
0.035"
No
4

7/32

"
0000000
000000