Moisture-Eliminating

Breather Vents
Keep moisture, dirt, and debris from entering your oil reservoirs. The silica gel inside these breather vents absorbs moisture from the air, preventing rust from forming inside your tanks. The gel changes from blue to pink as it becomes saturated, letting you know it needs to be replaced. A second filter blocks dust and other particles from getting inside. These breather vents allow air to flow in and out of your lubrication system, keeping excess vacuum or pressure from building up in cylinders, gear boxes, and tanks.
Breather vents with a plastic body are clear, so a quick glance will tell you if the gel is saturated. Unlike steel versions, which can be rebuilt, the entire unit must be replaced when fresh gel is needed. For washdown environments, select breather vents with check valves. These valves allow air to flow in and out, but close when liquids try to enter.
For an extended service life, use breather vents with a steel body. They are stronger than breather vents with plastic bodies and hold up better when exposed to chemicals. A window lets you check the color of the gel. No need to replace the entire unit when the gel is saturated—use rebuild kits to add fresh gel and to replace the window, filters, and gaskets.
Plastic Breather Vents—NPT Male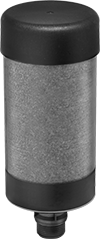 Pipe
Size

For Tank


Capacity,

gal.

Max.

Flow Rate

Max.




Temp.,

°F

Ht.

Dia.

For Use With
Removes Particle Size
Down

To,

microns
Each

Nylon and Polycarbonate Plastic Body and Nylon Plastic Fitting

3/8

1-2
4.5 scfm @ 1 psi
200°
4"
2

1/2

"
Air, Inert Gas
3
0000000
000000

3/8

1-5
4 scfm @ 1 psi
200°
5

3/8

"
2

1/2

"
Air, Inert Gas
3
0000000
00000
1

5-200
16 scfm @ 1 psi
200°
6

1/8

"
4

1/8

"
Air, Inert Gas
3
0000000
00000
1

5-350
16 scfm @ 1 psi
200°
8

1/8

"
4

1/8

"
Air, Inert Gas
3
0000000
00000
1

5-500
16 scfm @ 1 psi
200°
10

1/8

"
4

1/8

"
Air, Inert Gas
3
0000000
000000
Plastic Breather Vents with Check Valves—NPT Female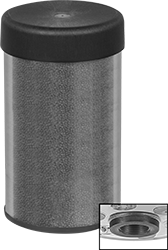 Pipe
Size

For Tank


Capacity,

gal.

Max.

Flow
Rate

Max.




Temp.,

°F

Ht.

Dia.

For Use
With
Removes Particle
Size Down


To,

microns
Each

Nylon and Polycarbonate Plastic Body and Nylon Plastic Fitting

1

1-400
27 scfm @ 1 psi
200°
4

11/16

"
5

11/16

"
Air, Inert Gas
3
0000000
0000000
1

1-600
26 scfm @ 1 psi
200°
6

7/16

"
5

11/16

"
Air, Inert Gas
3
0000000
000000
1

1-800
25 scfm @ 1 psi
200°
8

1/4

"
5

11/16

"
Air, Inert Gas
3
0000000
000000
1

1-1,000
24 scfm @ 1 psi
200°
10"
5

11/16

"
Air, Inert Gas
3
0000000
000000
Steel Breather Vents—NPT Male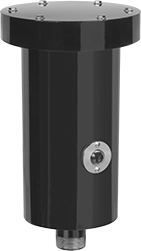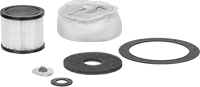 Rebuild Kit
Pipe
Size

For Tank


Capacity,




gal.

Max.


Flow
Rate

Max.




Temp.,




°F

Ht.

Dia.

For
Use
With
Removes Particle
Size Down


To,

microns
Each
Each

Steel Body and Fitting

2

1-800
85 scfm @ 1 psi
220°
11

1/2

"
10

1/8

"
Air
1
0000000
0000000
00000000
0000000
2

1-1,300
85 scfm @ 1 psi
220°
13

3/4

"
10

1/8

"
Air
1
0000000
00000000
00000000
000000
2

1-2,400
80 scfm @ 1 psi
220°
18

1/4

"
10

1/8

"
Air
1
0000000
00000000
00000000
000000
3

1-4,000
205 scfm @ 1 psi
220°
19

1/4

"
15

1/2

"
Air
1
0000000
00000000
00000000
000000