Desiccators
Protect material from moisture by storing them in these desiccators. Create a vacuum using the tube connection.
You need both the desiccator and the cartridge, each sold separately. The cartridge has indicating desiccant that turns from blue to pink when maximum absorption is reached.
For Desiccator
OD
For

Area,




cu.

in.

Removal Capacity

Wt.,




lbs.

Method

Temperature,




°F

Time,




hrs.

Absorption
Indicator
Each

Silica Gel

6

3/4

"
8,625
Up to 20% of desiccant weight

1/2

Oven
300°
3
Yes
0000000
000000
9

1/16

"
32,825
Up to 20% of desiccant weight
1

1/2

Oven
300°
3
Yes
0000000
000000
10

3/4

"
57,000
Up to 20% of desiccant weight
3
Oven
300°
3
Yes
0000000
000000
Dehumidifying Cabinets
Store and protect 3D printer filaments, optical equipment, and other sensitive material in a humidity-controlled environment. Also known as dry boxes and desiccator cabinets, these cabinets prevent moisture-sensitive 3D printer filaments, such as nylon, ABS, and polycarbonate, from becoming brittle, discolored, or broken. They also keep sensitive electrical and optical equipment, such as microscopes and lenses, free from mold and fungus. Their moisture-absorbing desiccants recharge automatically, so you don't have to remember to charge them yourself or worry about the humidity rising unintentionally.
Standard cabinets are sized to store small equipment, such as flasks and lenses, as well as small filament spools. The desiccants recharge every 20 minutes to keep relative humidity below 30%. Although you cannot set the humidity to a specific level, a humidity meter on the door lets you check the reading.
Designed with 3D printing in mind, cabinets with filament feed ports are large enough to hold up to four 12"-dia. filament spools. They also have four filament feed ports, so you can keep filament dry while still feeding a printer, ensuring the filament doesn't go bad in the middle of a longer job. These cabinets can lower relative humidity to less than 20%; set and monitor the level using the analog display.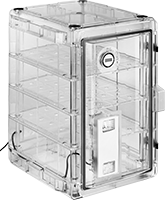 Standard
Ht.

Wd.

Dp.

Cap.,




lbs.

Type


(No. of)

Cap.,




lbs.

Ctr.-to-Ctr.


Adjustments
Relative
Humidity
Desiccant
Material
Material
Plug
Type
Cord


Lg.,




ft.

Each

Assembled

12

1/2

"
13

1/2

"
16

1/2

"
80
Adjustable (2)
40
4"
<30%
Silica Gel
Plastic
Two Prong
8
0000000
0000000
20

1/2

"
13

1/2

"
16

1/2

"
120
Adjustable (3)
40
4"
<30%
Silica Gel
Plastic
Two Prong
8
0000000
00000000
Cabinets with Filament Feed Ports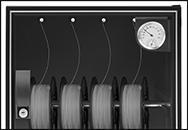 Filament Feed Ports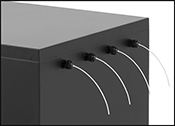 Filament Feed Ports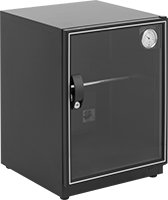 With Filament Feed Ports
Ht.

Wd.

Dp.

Cap.

Type


(No. of)

Cap.

Ctr.-to-Ctr.


Adjustments
Relative
Humidity
Desiccant
Material
For
Filament


Dia.,

mm
Material
Window
Material
Plug
Type
Cord


Lg.,




ft.

Features
Each

Assembled

21

7/8

"
15

3/4

"
16"
Not Rated
Adjustable (1)
Not Rated
1"
<20%
Aluminosilicate
1.75-4.76
Painted Steel
Glass
Two Prong
6
Analog Humidity Control and Display
0000000
0000000