Desk Pads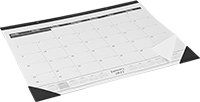 Cardboard with Calendar Sheets
Cardboard with Blank Calendar Sheets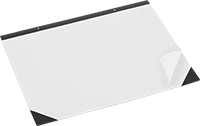 Cardboard with Blank Sheets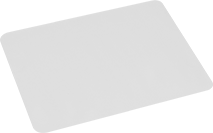 Plastic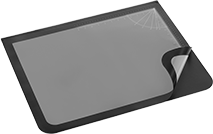 Rubber with Plastic Cover
Protect desks and other surfaces from scratches, writing marks, and stains.
Cardboard pads are topped with tear-off paper sheets, so you can scribble notes and keep track of appointments, then move to the next sheet when you're done. Hang them in your space with the mounting holes.
Plastic and rubber desk pads have a nonskid base to keep them from sliding. They have stain-resistant surfaces, which you can wipe clean with a damp cloth. Tuck schedules, charts, and other documents under PVC pads so they're easy to view, but protected from spills and rips. The matte surface reduces glare, which can cause eye strain. They're not for use on surfaces with lacquer, acrylic, or urethane finishes. Rubber sheets have a black base with a clear plastic cover. Lift up the cover to slide documents underneath. Vinyl pads are self-healing, so scrapes, dents, and writing marks don't linger on the surface.
Wd.

Lg.

Color
Appearance
Features
Each

Cardboard

17"
22"
Black
__
12-Month Calendar Through Year 2022
00000000
000000
17"
22"
Black
__
36 Tear-Off Sheets with Undated Monthy Calendar Pages
00000000
00000
17"
22"
Gray
__
50 Tear-Off Sheets of Blank White Paper
00000000
00000

PVC Plastic

19"
24"
Clear
Matte
__
00000000
00000

Rubber with Plastic Cover

19"
24"
Black
__
__
00000000
00000

Vinyl Plastic

17"
24"
Black
__
__
00000000
00000