Batteries for DeWalt Cordless Tools

A

B

C

D

E

F
These batteries are compatible only with DeWalt tools and chargers.
Nickel cadmium (NiCad) batteries should be drained completely before recharging for maximum battery life.
Lithium ion (Li-Ion) batteries achieve maximum battery life when they are recharged before they are drained completely.
Battery Adapters for DeWalt Cordless Tools

Use a 20-volt DeWalt battery in an 18-volt DeWalt cordless tool. To charge, use a DeWalt charger for 20-volt batteries.
Manufacturer
Model
Number
For
Tool
Voltage
For
Battery
Voltage
For
Battery
Number
Each

For Lithium Ion

(Li-Ion)

Batteries

DCA1820
18
20
DCB200, DCB201, DCB203, DCB203BT, DCB204, DCB204BT, DCB205, DCB205BT, DCB206
000000000
000000
Chargers for DeWalt Cordless Tool Batteries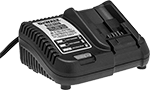 Charger
These chargers are for use with most DeWalt batteries, except Univolt batteries.
Charger


No.

For Battery

No.

For Battery
Voltage
For

No.

of
Batteries
Charging


Time,

min.

Input
Voltage
Plug
Type
Cord


Lg.,

ft.

Each

For Lithium Ion

(Li-Ion)

Batteries

DCB115
DCB124, DCB127, DCB200, DCB201, DCB203, DCB204, DCB205, DCB205BT, DCB206, DCB230, DCB606, DCB609
12/14.4/18/20
1
60
120V AC
Two Prong
6
000000000
000000