Electric Angle Grinders for Grinding Wheels and Sanding Discs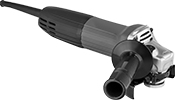 The threaded spindles on these grinders accept raised-hub grinding wheels. Grinders have a spindle lock for fast wheel changes and a slide handle.
Wheel guards are required when using grinding wheels and cups.
Backup pads are required when using sanding discs. Thread the backup pad onto the tool's arbor, then attach a sanding disc and secure with its disc nut.
Match replacement parts to the manufacturer, model number, and type of your grinder, all of which are listed on the tool's label.
Caution: Use only accessories that have a greater rpm rating than the maximum speed of the grinder you choose.
Electric Straight Grinders for Bits and Burs

D
Also known as die grinders.
Caution: Use only accessories that have a greater rpm rating than the maximum speed of the grinder you choose.
Max.




Speed,


rpm
For
Shank


Dia.

Double
Insulated
Voltage

Current,


A
Electrical
Connection

Frequency,


Hz
Switch
Type
Speed
Control
Type

O'all




Lg.

Wt.,




lbs.

Specifications
Met
Manufacturer
Manufacturer
Model


No.

Each
D
25,000

1/4

"
Yes
120V AC
4.2
Plug
60
Paddle
Fixed
14"
3.75
UL Listed, CSA Certified
DeWalt
DWE4887
0000000
0000000
| | | | |
| --- | --- | --- | --- |
| Replacement Brush for DeWalt Grinder No. DWE4011, DWE4012, DWE4020, DWE4100, DWE4120, DWE4120N, DWE4887, DWE4887N | 0000000 | Each | 00000 |
Collets for Electric Bit and Bur Grinders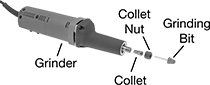 Size
Manufacturer
Model Number
For Manufacturer
Model Number
Each

For DeWalt Grinder

1/4

"
4287/DW887
DW887
0000000
000000
Battery-Powered

Plastic Pipe and Tube Bevelers
Lightweight and portable, these battery-powered bevelers cut faster than manual ones. Use them to quickly and safely create smooth beveled edges on plastic pipe and tubing so that cement distributes evenly for a leak-tight connection. An adjustable guide plate helps you cut an accurate, even edge all the way around the pipe. The OD guard protects you from the router bit and flying plastic shavings.
Plastic Pipe and Tube Beveler Adapters for Cordless Grinders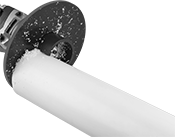 Shown with Grinder
(Not Included)
Add these adapters onto cordless grinders in order to bevel smooth edges on plastic pipe and tubing, which help you create leak-tight cement connections. They cut using carbide router bits (sold separately). To set the length of the beveled edge and ensure an even bevel all the way around, there's an adjustable guide that you hold perpendicular to the pipe as you cut. All come with an OD guard, which covers the router bit's sharp edges and stops plastic shavings from flying out.
Swap OD guards for ID guards if you want to bevel the inside edge of pipe and tubing instead.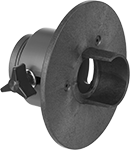 Beveler Adapter
For Number
of Bits
Diameter
Height
For
Manufacturer
For Manufacturer
Model Number
Includes
Features
Each
1
6"
3

3/4

"
DeWalt
DCG426B
OD Guard
Adjustable Guide
0000000
0000000