System of Measurement

System of Measurement
Warning: Products have one, but not necessarily all, of the selected characteristics.
Individual/Set

Individual/Set
Overall Length

Overall Length
For Thread Location

For Thread Location
DFARS (Defense Acquisition Regulations Supplement)

DFARS

(Defense

Acquisition
Regulations

Supplement)
Handle Material

Handle Material
Internal Thread Repairing Tools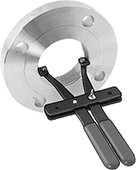 With replaceable dies, these long-lasting tools can repair both screw threads and pipe and conduit threads. Use them for holes with an ID from 3/4" to 6". The dies line up with threads to start and stop repair at any point. The included dies are for 14 threads per inch on a 3/4" ID; 11 1/2 threads per inch on 1" to 2" IDs; and 8 threads per inch on 3/4" to 6" IDs.
To repair additional thread sizes, including metric thread pitches, choose from additional dies and die sets (sold separately).