Screw Thread Dies

Use these dies to create external threads on bolts, studs, and rods. They're shaped for use with a die wrench. Loosen and tighten the die with the included set screw to adjust thread depth. Uncoated high-speed steel dies last longer than carbon steel dies when cutting similar material.
For technical drawings and 3-D models, click on a part number.
Thread
Size

Includes
Each

UNEF

Right-Hand

Thread

3/4

"-20

Set Screw
000000000
000000
Thread Repairing
Tap,

Die,

and File Sets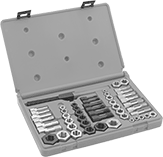 Repair screw threads in a wide range of sizes. The dies are hex shaped for use with conventional wrenches. The taps have a square shank that's compatible with tap wrenches and tap holders for drill presses and drilling machines. With a plug chamfer, all taps have 3-5 chamfered threads and are suitable for thread repair in both through holes and closed-end holes.
Number
of Pieces
Tap Sizes Included
Die Sizes Included
File Sizes Included
Container Type
Each

Carbon Steel

53

1/4

"-20,

1/4

"-28,

5/16

"-18,

5/16

"-24,

3/8

"-16,

3/8

"-24,

7/16

"-14,

7/16

"-20,

1/2

"-13,

1/2

"-20,

9/16

"-12,

9/16

"-18, M6 × 1.00 mm, M8 × 1.25 mm, M10 × 1.25 mm, M10 × 1.50 mm, M12 × 1.25 mm, M12 × 1.50 mm, and M12 × 1.75 mm

1/4

"-20,

1/4

"-28,

5/16

"-18,

5/16

"-24,

3/8

"-16,

3/8

"-24,

7/16

"-14,

7/16

"-20,

1/2

"-13,

1/2

"-20,

9/16

"-12,

9/16

"-18,

5/8

"-11,

5/8

"-18,

3/4

"-10,

3/4

"-16,

3/4

"-20, M6 × 1.00 mm, M6 × 1.25 mm, M7 × 1.00 mm, M8 × 1.00 mm, M8 × 1.25 mm, M8 × 1.50 mm, M10 × 1.00 mm, M10 × 1.25 mm, M10 × 1.50 mm, M12 × 1.25 mm, M12 × 1.50 mm, M12 × 1.75 mm, M14 × 1.25 mm, M14 × 1.50 mm, and M20 × 1.50 mm
For 11 to 24 threads per inch, For 0.8 to 3 mm thread pitches
Plastic Case
00000000
0000000