Stops and Spacers for DIN Rails
Position terminal blocks, relays, and other components mounted to DIN rails with these stops and spacers. They are often used to create space between components for cooling, make wiring easier, and organize electrical panels and cabinets.
Stops stay fixed in place when you attach them to a DIN rail, keeping your components from sliding along the rail. For the most secure hold, use screw-on stops. As you tighten the screw, it wedges into place against the DIN rail. Snap-on stops are quick to install or remove—just snap them onto the DIN rail.
Group markers mount onto stops—label them for easy identification.
Spacers separate and organize components into groups. They slide along DIN rails, so you can shift components without having to remove the spacers.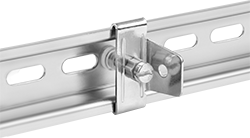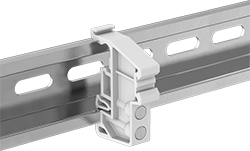 Screw-On
Stop
(DIN 3 or 1)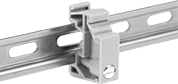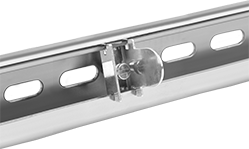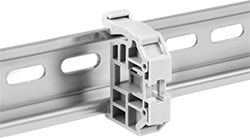 Trade
Size

Ht.,


mm

Dp.,


mm

Ht.,


mm

Wd.,


mm

Dp.,


mm
Color

Pkg.




Qty.

Pkg.

Pkg.




Qty.

Pkg.

Screw On

Plastic

DIN 3
35
7.5, 15
45
8
32
Gray
10
0000000
00000
10
0000000
00000
DIN 3
35
7.5, 15
50
9.5
44.5
Gray
1
0000000
0000
10
0000000
0000
DIN 3

DIN 1

35
32
15
7.5, 15
44
9
34
Gray
10
0000000
0000
10
0000000
0000
DIN 3

DIN 1

35
32
15
7.5, 15
50
9
46
Gray
1
0000000
0000
10
0000000
0000
DIN 2
15
5.5
28
8
20
Gray
10
0000000
0000
10
0000000
0000
DIN 3
35
7.5
39.5
16
27
__
10
0000000
0000
10
0000000
0000
DIN 3
35
15
39.5
16
27
__
10
0000000
0000
10
0000000
0000
DIN 1
32
15
22.5
11.5
25
__
10
0000000
0000
10
0000000
0000

Snap On

Plastic

DIN 3
35
7.5, 15
41
6
35
Gray
5
0000000
0000
10
0000000
0000
DIN 3
35
15
41
10
35
Gray
10
0000000
00000
10
0000000
0000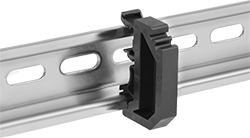 Snap-On
Spacer
(DIN 3 or 1)


Trade
Size

Ht.,


mm

Dp.,


mm

Ht.,


mm

Wd.,


mm

Dp.,


mm
Color

Pkg.




Qty.

Pkg.

Snap On

Plastic

DIN 3

DIN 1

35
32
15
7.5, 15
43
8
29
Black
10
0000000
00000