Modular
DIN-Rail

Mount Terminal Blocks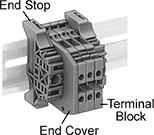 Add as many circuits as you need with these terminal blocks and accessories. The terminal blocks clip onto DIN 3 and DIN 1 rail and can be removed without disrupting adjacent blocks. All have screw-clamp terminals for a secure connection, reducing the chance of wire disconnecting due to vibrations, pulls, or snags. Blocks that meet IP10 shield connections from objects larger than your hand; those that meet IP20 protect against objects larger than your fingers.
Blocks with a fuse holder allow inline fuse wiring to protect components and wires from short-circuit damage.
End stops mount at the end of a group of blocks to prevent movement. Those rated IP20 provide additional protection from objects larger than your fingers.
For technical drawings and 3-D models, click on a part number.
Terminal Blocks with Fuse Holder—One Circuit with Screw-Clamp Terminals
Marker Cards for One- and Two-Circuit Terminal Blocks

Blank
Numbered—
For
Horizontal Rail

Numbered—
For Vertical Rail
For Terminal
Block

Wd.,

mm
Number
Range
Markers
Per Card

1-24

25-Up

Blank

8, 10, 12, 13, 16, 22
__
100
00000000
00000
00000

Numbered—

For Horizontal Rail

8, 10, 12, 13, 16, 22
1-100
100
00000000
0000
0000
8, 10, 12, 13, 16, 22
101-200
100
00000000
0000
0000

Numbered—

For Vertical Rail

8, 10, 12, 13, 16, 22
1-100
100
00000000
0000
0000
8, 10, 12, 13, 16, 22
101-200
100
00000000
0000
0000