Directional Compasses
These magnetic compasses provide your orientation relative to geographic points.
Angle
Measuring
Range
Accuracy
Graduation
Marks

Ht.

Wd.

Dp.

Material
Includes
Features
Each
0°-360°
±2.5°
2°
4

1/4

"
2

5/8

"

7/8

"
Plastic
Lanyard
Flip-Up Cover, Sight Line Mirror
00000000
000000
Handheld GPS Navigators

Handheld GPS Navigator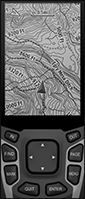 Digital Display
Navigate on foot with real-time GPS data. These handheld navigators access multiple Global Navigation Satellite Systems (GNSS) for accurate positioning even in remote locations and challenging environments such as dense forests. Use them to guide yourself to your destination, track and save up to 5,000 coordinates, and calculate the area of a location by walking its perimeter. They're preloaded with topographic maps that include terrain contours, elevations, and bodies of water. Navigators have a color display, so it's easy to read map details. Built for outdoor use, they stand up to splashes, rain, and snow.
To receive email, text, and call notifications on these navigators, link them to your smartphone via Bluetooth. Connect them to a computer with the included USB cable to upload additional maps or offload data and files. For extra storage, insert a memory card.
Image
Resolution
Length
Height
Operating
System
Compatibility
Operating
Temperature


Range,

°F

Batteries
Included
Number of
Batteries
Required
Battery
Size
Height
Width
Depth
Environmental
Rating
Includes
Each

Plastic Housing

With Bluetooth Connectivity and USB

Mini-B

Connection Type

160 x 240
1

1/2

"
2

1/4

"
Android 4.2 or Later; iOS 6 or Later
-4° to 120°
No
2
AA
6

1/4

"
2

1/2

"
1

1/2

"
IP07

Carabiner; USB Cable
00000000
0000000
Multifunction Smartwatches

Compass


Health and Fitness Tracking

Night Vision Mode

Weather and Elevation Monitoring

Multifunction Smartwatch
Keep your phone in your pocket and your hands free—these smartwatches perform a variety of functions on your wrist. They connect to Apple and Android phones via Bluetooth, informing you when calls, texts, and other notifications arrive. Designed for harsh environments and rugged use, they meet military standards for resistance to hot and cold temperatures, shock, splashes, and submersion in up to 100 meters of water. These watches have a compass and GPS for tasks such as navigation, tracking and saving location coordinates, and calculating the area of a location by walking the perimeter. With weather and elevation monitoring, you can set the rate of barometric pressure change that will trigger a storm alert. These watches track health and fitness metrics over time, including heartrate, blood oxygen levels, and exercise. They have a solar battery in addition to a rechargeable lithium-ion one to extend the time between plug-in charging.
Length
Width
Display
Time
Temperature


Range,




°F

Material
Color
Material
Color
Closure
Type
Battery
Life
Features
Specifications
Met
Each

7/8

"

7/8

"
12 hr., 24 hr.
0° to 140°
Fiber-Reinforced Plastic
Black
Silicone
Black
Buckle
28 days
Compass
GPS Navigation
Health and Fitness Tracking
Night Vision Mode
Weather and Elevation Monitoring
MIL-STD-810
0000000
0000000