Personal Protection and Sanitizing Stations
Promote safe social-health practices and prevent the spread of illness by making it easy to access tissues, hand sanitizer, and other sanitary items. These stations are used in public spaces such as waiting areas, offices, and lobbies. All have space to hold two boxes of tissues or disposable gloves. They have holes for mounting them to a wall permanently. To position them temporarily without mounting, they have a flat base for sitting on a counter or other flat surface. These stations do not come with any face masks, gloves, tissues, or sanitizers.
Stations with one face mask compartment hold two boxes of disposable face masks; they cannot dispense loose masks properly. Brown woodgrain and black stations look less clinical than beige stations, so they're good for locations where aesthetics are important, such as lobbies and offices.
Plastic stations weigh less and are more portable than steel ones.
Use optional sign holders to display your own message and increase the station's visibility.
Add optional floor stands to position stations in the center of rooms, in entryways, and in other spots where mounting to a wall isn't convenient.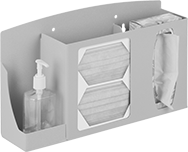 Station
Hand Sanitizer
Compartment

No.


of
For


No.

of
Boxes

No.


of
For
Mount
Type

No.


of
For


No.

of
Boxes

Ht.

Wd.

Dp.

Color
Mounting
Location

No.


of

Dia.

Mounting
Hardware
Included
Each

Plastic

1
2
1
Freestanding
1
2
10

1/2

"
18"
4

1/2

"
Brown Woodgrain
Floor Stand,
2

1/8

",

1/4

"
No
00000000
0000000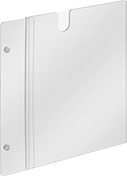 Optional Sign Holder
Height
Width
Height
Width
Depth
Material
Mounting
Hardware Included
Each
8

1/2

"
11"
10

3/4

"
11"

3/8

"
Plastic
Yes
00000000
000000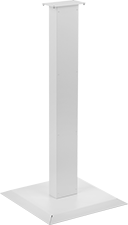 Optional Floor Stand
Width
Depth
Height
Material
Color
Mounting
Hardware Included
Each

For Brown

Woodgrain,

Black Stations

18"
18"
36"
Powder-Coated Steel
Black
Yes
00000000
0000000