Disposable Sleeves

Use these sleeves alone or with gloves to protect your arms.
Polypropylene sleeves offer economical protection in environments where liquid splashes are not a concern. They offer better abrasion resistance than polyethylene gloves.
Tyvek polyethylene sleeves are made of heat- and pressure-bonded olefin fibers that form a barrier that's soft yet strong and abrasion resistant. They resist liquid splashes, but are not recommended for continuous liquid exposure.
Kleenguard polypropylene sleeves are tear resistant and have three layers of fabric for more abrasion resistance than Tyvek polyethylene. The material is antistatic. It also resists liquid splashes, but is not recommended for continuous liquid exposure.
Tychem 2000 (formerly known as Tychem QC) sleeves are polyethylene coated for protection from inorganic acids and bases.
Material

Thick.,


mil

Lg.

Color
Size
Contains
Latex

Pkg.

Qty.

Pkg.

Sleeves

Polypropylene Fabric
6
18"
White
One Size
No
20 Pairs
000000
000000
Tyvek Polyethylene Fabric
5

1/2

18"
White
One Size
No
10 Pairs
0000000
00000
Kleenguard Polypropylene Fabric
5
18"
White
One Size
No
5 Pairs
00000000
00000

Chemical-Resistant

Sleeves

Tychem 2000 Fabric
11
18"
Yellow
One Size
No
5 Pairs
0000000
00000

Wrap fingers to protect against cuts and abrasions without limiting dexterity. This tape is flexible and water resistant. It adheres to itself and will not stick to skin, hair, or clothing.
Cotton/latex blend tape has an open-mesh design that allows the skin to breathe.
Cotton/Latex Fabric Blend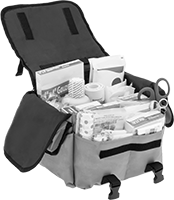 Kits and refills cannot be sold outside of the United States due to product registration requirements.
For

Max.

No.


of People

Ht.

Wd.

Dp.

Color
Cannot Be Sold To
Includes
Each
Each

Fabric

10
7"
12"
7"
Red
Outside United States
Alcohol Pads, Antiseptic Wipes, Arm Sling, Bandages, Blood Stop Pad, Burn Dressing, Cold Pack, CPR Mask, Disposable Gloves, Eye Wash Solution, Gauze Pads, Gauze Rolls, Heat-Retention Blanket, Scissors, Tri-Cut First-Aid Tape, Tweezers
000000
0000000
000000
000000