Disposable Shirts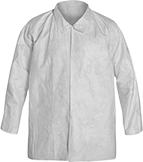 Shirts are hip length to protect against dirt, grime, and light liquid splashes. They are breathable and lightweight to keep you cool while working. They have snaps down the front and open cuffs.
Tyvek polyethylene is made of heat- and pressure-bonded fibers for a material that's soft yet strong.
Kleenguard polypropylene is made of five layers of nonwoven fabric, so it is more abrasion resistant and harder to tear than Tyvek polyethylene. The material is antistatic, so it protects sensitive equipment from electrostatic discharge.
Size
For Height
For Weight
M
5'2"-5'7"
125-160 lbs.
L
5'5"-5'10"
140-200 lbs.
XL
5'7"-6'2"
150-220 lbs.
2XL
5'11"-6'4"
180-240 lbs.
3XL
6'2"-6'5"
230-280 lbs.