Shipping Labels

C
Mark packages with messages recognized worldwide.
Message

Ht.

Wd.

Material
Color
Message
Color
Roll


Dia.

Core
ID

No.

of
Labels
Each
C
Do Not Stack
4"
3"
Paper
White
Black/Red
4

1/4

"
1"
250
00000000
000000
Stretch Wrap with Message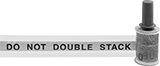 This printed stretch wrap comes on a handle so you can quickly apply a message to packages. It conforms to the contours of any item and adheres to itself. Use it to bundle cartons and pallet loads without tape, strapping, or twine, plus protect them from moisture, dirt, and abrasion. A plastic handle with a soft plastic sleeve allows the roll to spin freely. Squeeze the sleeve to reduce the roll's spinning speed.
Message

Wd.

Gauge

Thick.

Lg.,




ft.

Dia.

Core
ID
Color
Stripe


Wd.

Message
Color
Material
Handle
Material
Each
Do Not Double Stack
5"
80
0.0008"
500
4"
1

3/4

"
Clear/Red
1

1/2

"
Black
Polyethylene Plastic

Plastic
0000000
000000