DFARS (Defense Acquisition Regulations Supplement)

DFARS

(Defense

Acquisition

Regulations

Supplement)
About Dock Levelers and Dock Plates
Dock Levelers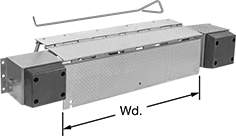 A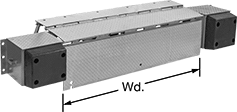 B
Permanently attach these levelers to a dock to bridge the gap between the edge of the dock and a truck. Use them when loading and unloading with forklifts, pallet trucks, and hand trucks. Each leveler has a deck plate, a hinged lip plate, and two bumpers that are attached to bumper blocks. Dual extension springs act as a counterbalance to aid the leveler as it mechanically lifts the lip plate onto the truck bed; the springs return the lip plate to its original position when the truck pulls away. The plates have a diamond surface texture for positive traction.
To install, weld levelers to a dock face with a minimum 8" wide steel channel embedded into concrete at the dock edge. If the dock edge does not have an 8" wide steel channel, use the optional installation kit (sold separately) for bolt-on mounting.
Style A include a lifting hook to raise the lip plate and come with a hanger for storing the lifting hook when not in use.
Style B have a self-storing handle instead of a lifting hook. Pull the handle back about 50° and then return it to its original vertical position to lift the lip plate. There's no need to bend, push, or lean.
Note: To determine load, take the gross weight of equipment, add typical load weight, and then multiply by two.
Style

Max.

Ht.


Differential

Capacity,




lbs.

Lg.

Wd.

Overall


Wd.

Number of
Bumpers
Material
Block
Material

Lg.

Wd.

Thick.

Each
A
±5"
20,000
27

3/4

"
66"
102"
2
Rubber
Steel
13"
12"
4"
0000000
000000000
A
±5"
20,000
27

3/4

"
72"
108"
2
Rubber
Steel
13"
12"
4"
0000000
00000000
B
±5"
20,000
27

3/4

"
66"
102"
2
Rubber
Steel
13"
12"
4"
0000000
00000000
B
±5"
20,000
27

3/4

"
72"
108"
2
Rubber
Steel
13"
12"
4"
0000000
00000000
| | | | |
| --- | --- | --- | --- |
| Optional Installation Kit (includes ramp plate, 17 anchor bolts, and four angles) | 0000000 | Each | 0000000 |