Aluminum Hand Trucks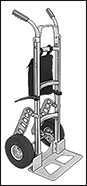 Shown with Open Load
Plate,
Stair
Glides,
and Accessory Bag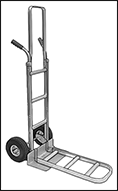 Shown with Frame Extension and Load Plate Extension
Aluminum trucks are lighter than steel and stainless steel trucks and more durable than fiberglass trucks. Slide the load plate under flat-bottom loads then tilt back on the wheels to move them.
Straight frames fit flush against flat material, such as boxes.
Curved frames better support round items.
Rubber tread-on-core wheels have a hard core for strength surrounded by a shock- and sound-absorbing tread for a cushioned ride on all surfaces. Pneumatic rubber wheels provide a cushioned ride over the roughest surfaces, such as gravel.
Optional stair glides make moving up and down stairs and over curbs easy. Glides have reversible wear strips for twice the life.
Optional frame extension attaches to loop handles and dual handles to increase their height to 60" for better leverage.
Optional load plate extensions add depth to the load plate to hold more material.
Optional accessory bag attaches to the cross braces of the frame for convenient storage.