About Flowmeters and Totalizers
Flowmeters measure the rate of flow for a liquid or a gas. Totalizers measure the cumulative flow volume. Flowmeter/totalizers display both the flow rate and the cumulative flow volume.
Digital Flowmeters for Water with Solids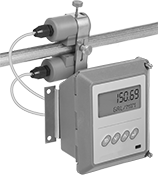 Polycarbonate Plastic
Also called Doppler flowmeters, these use ultrasonic waves to spot check flow rate throughout your system. They are for water containing particles 100 microns (similar to flour) or larger. Flowmeters only provide accurate readings for water with a minimum particle concentration of 100 ppm.
For
Pipe
Diameter

End-to-End




Lg.

Overall


Ht.

Velocity
Range

Temp.




Range,




°F

Voltage
Electrical
Connection
Type
Features
Environmental
Rating
Each

Polycarbonate Plastic Body

Gallons per Minute

1/4

" to 1"
5

3/4

"
7"
0.15 to 30 ft./sec.
-40° to 185°
115V AC
Wire Leads
Flow-Rate Calculator in gpm
IP65, NEMA 4
00000000
000000000
1" to 60"
5

3/4

"
7"
0.15 to 30 ft./sec.
-40° to 185°
115V AC
Wire Leads
Flow-Rate Calculator in gpm
IP65, NEMA 4
00000000
00000000