Alert surrounding traffic to the presence of hazardous materials. Mount plain-back signs in a sign holder (sold separately).
Hazardous Material Shipping Labels

A

B

C

D

E

E
F

G

H

J
L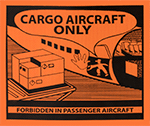 M
Label hazardous materials with these D.O.T., ORM-D, and Limited Quantity paper labels.
D.O.T. labels may be used for international and domestic shipments.
D.O.T. vehicle signs are also available.
Message

Wd.

Ht.

Material
Roll


Dia.

Core
ID
Specifications Met

No.

of
Labels
Roll
A
Exploding Bomb Symbol
Explosive 1.3C—1
4"
4"
Paper
4

1/4

"
3"
D.O.T. 49CFR 172.400 (HM 181); IATA; ICAO; IMDG
250
0000000
000000
B
Gas Cylinder Symbol
Non-Flammable Gas—2
4"
4"
Paper
4

1/4

"
3"
D.O.T. 49CFR 172.400 (HM 181); IATA; ICAO; IMDG
250
0000000
00000
C
Flame Symbol
Flammable Gas—2
4"
4"
Paper
4

1/4

"
3"
D.O.T. 49CFR 172.400 (HM 181); IATA; ICAO; IMDG
250
0000000
00000
D
Flame Symbol
Flammable Liquid—3
4"
4"
Paper
4

1/4

"
3"
D.O.T. 49CFR 172.400 (HM 181); IATA; ICAO; IMDG
250
0000000
00000
E
Flame Symbol
Flammable Solid—4
4"
4"
Paper
4

1/4

"
3"
D.O.T. 49CFR 172.400 (HM 181); IATA; ICAO; IMDG
250
0000000
00000
F
Flame Over Circle Symbol
Oxidizer—5.1
4"
4"
Paper
4

1/4

"
3"
D.O.T. 49CFR 172.400 (HM 181); IATA; ICAO; IMDG
250
0000000
00000
G
Poison—6
Skull and Crossbones Symbol
4"
4"
Paper
4

1/4

"
3"
D.O.T. 49CFR 172.400 (HM 181); IATA; ICAO; IMDG
250
0000000
00000
H
Skull and Crossbones Symbol
Toxic—6
4"
4"
Paper
4

1/4

"
3"
D.O.T. 49CFR 172.400 (HM 181); IATA; ICAO; IMDG
250
0000000
00000
J
Radioactive I—7
Radioactive Symbol
4"
4"
Paper
4

1/4

"
3"
D.O.T. 49CFR 172.400 (HM 181); IATA; ICAO; IMDG
250
0000000
00000
K
Corrosion Symbol
Corrosive—8
4"
4"
Paper
4

1/4

"
3"
D.O.T. 49CFR 172.400 (HM 181); IATA; ICAO; IMDG
250
0000000
00000
L
9
4"
4"
Paper
4

1/4

"
3"
D.O.T. 49CFR 172.400 (HM 181)
250
0000000
00000
M
Cargo Aircraft Only
5"
4

5/16

"
Paper
4

1/4

"
3"
D.O.T. 49CFR 172.400 (HM 181); IATA; ICAO; IMDG
250
0000000
00000