Hydraulic-Powered

Hold-Down

Fixture Clamps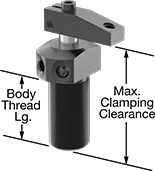 Clamp and Arm Sold Separately
Use the power of hydraulic fluid to quickly, consistently, and repeatedly clamp and release parts with a greater clamping force than air-powered hold-down fixture clamps. All of these clamps have a threaded body so you can screw them directly into a tapped hole in a fixture. Connect the clamp's ports to a hydraulic control valve and a hydraulic fluid line. To use these clamps, you'll need a short or long clamp arm (sold separately), or add your own custom clamp arm.
Double-acting clamps use hydraulic fluid to hold as well as release material. They're more reliable and consistent for high-production applications than single-acting clamps.
Clamps with 90° rotation let clamp arms move into position over your material and then move straight down to clamp. Once the clamp is released, they rotate the clamp arm out of the way so you can remove the material.
Attach clamp arms to the piston on your clamp to hold down material. Short clamp arms have a threaded hole, so you can use a holding screw for a more secure installation. Long clamp arms offer the extra length you need to reach material that is farther away from your clamp. They will, however, reduce the holding capacity of the clamp.
For technical drawings and 3-D models, click on a part number.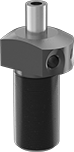 Clamp
Force,




lbs.

Clearance
Stroke
Holding


Capacity,




lbs.

Thread
Size
Thread
Length
Overall
Height
Included
Thread
Size
Thread


Pitch,


mm
Material
Each
475
3

7/8

"

5/16

"
600
1

1/8

"-16
1

15/16

"
4

15/16

"
No
M6
1
Black-Oxide Steel
0000000
0000000
1,100
4

3/8

"

3/8

"
1,400
1

3/8

"-18
2

3/8

"
5

15/16

"
No
M8
1.25
Black-Oxide Steel
0000000
000000
2,400
5

3/8

"

1/2

"
3,150
1

7/8

"-16
3

3/16

"
7

1/2

"
No
M10
1.5
Black-Oxide Steel
0000000
000000
4,000
4

7/8

"

7/16

"
5,500
2

1/2

"-16
2

11/16

"
7

5/16

"
Yes
__
__
Black-Oxide Steel
0000000
00000000

90°

Counterclockwise Rotation

475
3

7/8

"

5/16

"
600
1

1/8

"-16
1

15/16

"
4

15/16

"
No
M6
1
Black-Oxide Steel
0000000
000000
1,100
4

3/8

"

3/8

"
1,400
1

3/8

"-18
2

3/8

"
5

15/16

"
No
M8
1.25
Black-Oxide Steel
0000000
000000
2,400
5

3/8

"

1/2

"
3,150
1

7/8

"-16
3

3/16

"
7

1/2

"
No
M10
1.5
Black-Oxide Steel
0000000
000000
4,000
4

7/8

"

7/16

"
5,500
2

1/2

"-16
2

11/16

"
7

5/16

"
Yes
__
__
Black-Oxide Steel
0000000
00000000

Straight Pull Rotation

1,100
4

3/8

"

3/8

"
1,400
1

3/8

"-18
2

3/8

"
5

15/16

"
No
M8
1.25
Black-Oxide Steel
0000000
000000
2,400
5

3/8

"

1/2

"
3,150
1

7/8

"-16
3

3/16

"
7

1/2

"
No
M10
1.5
Black-Oxide Steel
0000000
000000