Press-Connect

Fittings for Copper Tubing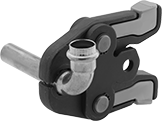 For Use

With:

Drinking Water
Maximum

Pressure:

200psi @

72° F

Temperature

Range:

0° to 250° F

Tubing:

Use with

K,

M,

L copper
Specifications

Met:

See table
Crimp these fittings to copper tubing with a crimping tool (sold separately). An O-ring on the inside of the fitting creates a leak-tight connection that doesn't require heat or soldering. They are comparable to Viega ProPress fittings. Fittings have good corrosion resistance. They meet NSF/ANSI safety standards for use with drinking water systems.
Copper tube size is the accepted designation of the copper tubing industry, not the actual tube OD.
For technical drawings and 3-D models, click on a part number.
Side-Oulet Elbow Adapters, Female Press-Connect Tube × Female Threaded Pipe

Copper
Tube
Size
For
Tube
OD
Pipe
Size

Material

Dia.

No.


of
Specifications
Met
Each

NPT Threads

1/2

5/8

"

1/2

Bronze

1/4

"
2
ASME B16.51, ASME B31.1, ASME B31.3, ASME B31.9, NSF/ANSI 61, UL 213
00000000
000000

3/4

7/8

"

3/4

Bronze

1/4

"
2
ASME B16.51, ASME B31.1, ASME B31.3, ASME B31.9, NSF/ANSI 61, UL 213
00000000
00000
1
1

1/8

"

1/2

Bronze

1/4

"
2
ASME B16.51, ASME B31.1, ASME B31.3, ASME B31.9, NSF/ANSI 61, UL 213
00000000
00000