Dremel 3D Printer Filaments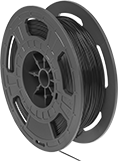 Build parts and prototypes from these filaments using Dremel fused filament fabrication (FFF) 3D printers. An RFID tag on the spool communicates with your printer, automatically adjusting it to the correct temperature and print speed for the filament material and notifying you when the filament is running out.
PLA filaments are the most commonly used in 3D printing. PLA is easy to use; it rarely clogs nozzles, doesn't require a heated printer bed, and prints at a low temperature—meaning parts won't warp while cooling. It produces string-free parts, so you can use it to print with a high level of detail. Less durable and more sensitive to heat than ECO-ABS, PLA is better for printing prototypes than end-use parts.
ECO-ABS is less brittle and more impact resistant than PLA, so these filaments are good for printing parts that are frequently handled, dropped, or heated. They are, however, a little more high maintenance—parts may warp during cooling, so they require a heated printer bed.
Nylon resists scratches and wear, and is often used to create parts that encounter constant friction such as gears or bearings. Nylon parts also won't crack or shatter when they're drilled or tapped. Exposure to humidity makes these filaments brittle and unusable, so they need to be stored in a sealed container with a desiccant. Like ECO-ABS, parts can warp during cooling and need a heated printer bed. Make sure your printer is connected to a ventilation system, as nylon emits fumes during printing.
PETG is more moisture resistant than ECO-ABS, making it a great choice for printing parts for use in humid or wet environments. Generally, PETG's other properties fall somewhere between those of PLA and ECO-ABS. It's more flexible and durable than PLA, but less so than ECO-ABS. It's harder to print than PLA because it requires a heated printer bed, but easier to print than ECO-ABS. PETG filaments should be kept in a sealed container with a desiccant.
Tensile strength is the best measure of a filament's overall strength. Similar to the stress applied on a rope during a game of tug-of-war, it's the amount of pulling force a material can handle before breaking. A higher rating means a stronger filament. A tensile strength of 5,000 psi and above is considered good; 12,000 psi and above is excellent.
Maximum exposure temperature is the point at which a printed part will begin to deform. Above this temperature, your printed parts will start to lose structural integrity.
Manufacturer
Model


No.

Dia.,


mm
Printing


Temp.

For Printer
Bed


Temp.

Tensile
Strength

Max.


Exposure


Temp.

For

Min.

Nozzle
Opening


Dia.,

mm

Dia.,


mm

Dp.,


mm

Wt.,


g
Choose
a
Color
Each

PLA Plastic

__
1.75
200° to 230° C

395° to 445° F

35° C

95° F

6,620 psi (Good)
60° C
140° F
0.25
180
55
750
000000
000000
ECO-BLA-01
1.75
190° to 240° C

374° to 464° F

60° C

140° F

8,410 psi (Good)
63° C
145° F
0.2
181
55
750
Black
0000000
00000
ECO-WHI-01
1.75
190° to 240° C

374° to 464° F

60° C

140° F

8,410 psi (Good)
63° C
145° F
0.2
181
55
750
White
0000000
00000

Nylon Plastic

DF45-NYP-B
1.75
230° to 250° C

446° to 482° F

80° C

176° F

7,540 psi (Good)
155° C
311° F
0.4
180
55
500
Black
0000000
00000

PETG Plastic

PETG-TRA-01
1.75
240° to 260° C

464° to 500° F

80° C

175° F

7,250 psi (Good)
84° C
183° F
0.2
181
55
750
Clear
0000000
00000