Spray Hose for Eye Wash Stations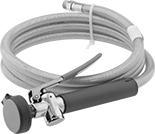 Attach this hose to an eye wash station to rinse your eyes, face, or any part of your body.
Valve Material
Station Activation
Pipe Connection
Type
Pipe
Size

Thread
Type
Gender
Each
Chrome-Plated Brass
Squeeze Trigger
Threaded

1/2

NPT

Male
0000000
0000000
ANSI-Compliant

Hand-Held

Eye Wash Stations with Pipe Connection
The hose gives you longer reach than other eye wash stations. Direct the flow of water to rinse any part of your face or body. Stations connect to your facility's plumbing and require very little maintenance to comply with ANSI standards. Use a mixing valve (sold separately) to ensure water flows at a comfortable temperature.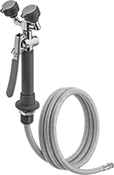 Bench Mount
Valve
Material
Spray
Arm
Material
Station
Activation
Pipe
Connection
Type
Pipe
Size

Thread
Type
Gender
Material

Lg.,




ft.

For
Cutout


Dia.

Includes
Specifications
Met
Each

Eye and Face Coverage

Chrome-Plated Brass
Chrome-Plated Brass
Squeeze Trigger
Threaded

3/8

NPT

Male
PVC
8
1

3/8

"
Eye Wash Sign
ANSI Z358.1
0000000
0000000

Wall Mount
Valve
Material
Spray
Arm
Material
Station
Activation
Pipe
Connection
Type
Pipe
Size

Thread
Type
Gender
Material

Lg.,




ft.

Mount.


Hole


Dia.

Fasteners
Included
Includes
Specifications
Met
Each

Eye and Face Coverage

Chrome-Plated Brass
Chrome-Plated Brass
Squeeze Trigger
Threaded

3/8

NPT

Male
PVC
8

1/4

"
No
Eye Wash Sign
ANSI Z358.1
0000000
0000000
Wall Mount with Self-Retracting Hose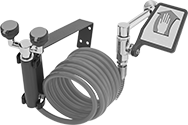 Wall Mount with
Self-Retracting
Hose
Valve
Material
Spray
Arm
Material
Station
Activation
Pipe
Connection
Type
Pipe
Size

Thread
Type
Gender
Material

Lg.,




ft.

Mount.


Hole


Dia.

Fasteners
Included
Includes
Specifications
Met
Each

Eye and Face Coverage

Chrome-Plated Brass
Chrome-Plated Brass
Push Handle
Threaded

3/8

NPT

Female
Nylon
12

1/4

"
No
Eye Wash Sign
ANSI Z358.1
00000000
0000000