Drill Bit Decimal Size Equivalents
Carbide Drill Bit Sets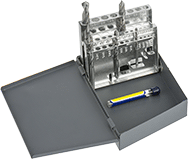 Carbide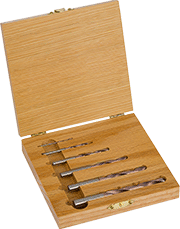 Titanium Carbonitride
(TiCN)-Coated
Carbide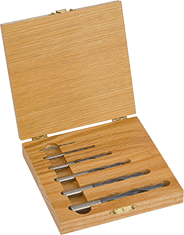 Aluminum Titanium Nitride
(AlTiN)-Coated
Carbide
For the highest accuracy and longest tool life, these solid-carbide bits are harder, stronger, and more wear resistant than high-speed steel, cobalt steel, and carbide-tipped bits. They retain a sharp, hard edge at high temperatures for the best performance on hard and abrasive material. These bits require rigid toolholding to prevent breakage and should not be used in hand-held drilling applications. All are jobbers' length so they have the rigidity and length required for most applications. A four-facet point keeps the bit centered without a pilot hole.
Uncoated drill bit sets are good for general purpose drilling in most metal and plastic.
Titanium-carbonitride (TiCN) coated drill bit sets have a hard, smooth finish that resists chipping and wear. It also prevents material from accumulating on the cutting edge. They're especially good for use on aluminum.
Aluminum-titanium-nitride (AlTiN) coated drill bit sets are the most wear and temperature resistant for the longest life and highest drilling speeds.
For technical drawings and 3-D models, click on a part number.
Number
of Pieces
Drill Bit Sizes Included
Point Style
For Use On
Each

Inch

Uncoated Carbide

6

1/16

"-

3/8

" (increments of

1/16

")
Four Facet
Steel, Iron, Stainless Steel, Aluminum, Brass, Bronze, Plastic
00000000
0000000
15

1/16

"-

1/2

" (increments of

1/32

")
Four Facet
Steel, Iron, Stainless Steel, Aluminum, Brass, Bronze, Plastic
00000000
000000
21

1/16

"-

3/8

" (increments of

1/64

")
Four Facet
Steel, Iron, Stainless Steel, Aluminum, Brass, Bronze, Plastic
00000000
000000

Titanium-Carbonitride

(TiCN)

Coated Carbide

6

1/16

"-

3/8

" (increments of

1/16

")
Four Facet
Steel, Iron, Stainless Steel, Aluminum, Brass, Bronze, Plastic
00000000
000000

Aluminum-Titanium-Nitride

(AlTiN)

Coated Carbide

6

1/16

"-

3/8

" (increments of

1/16

")
Four Facet
Steel, Iron, Stainless Steel, Aluminum, Brass, Bronze, Plastic
00000000
000000

Wire Gauge

Uncoated Carbide

60
60-1 ga
Four Facet
Steel, Iron, Stainless Steel, Aluminum, Brass, Bronze, Plastic
00000000
000000