Drill Bit Decimal Size Equivalents
Ball Guides for
Flexible-Shaft

Drill Bits

Ball Guide with Drill Bit

Ball Guides
Keep flexible-shaft drill bits centered between studs and drywall.
Material
Shank
Type
Shank
Size
Shaft
Size

Dia.

No.

of
Guides
Each
Plastic
Round

3/16

"

3/16

"
1

1/2

", 2"
2
000000
000000
Drill Bit Cases
Store and organize drill bits so they stay in good working condition and don't go missing. These cases have individually marked holes for each size in your set.
Plastic cases have screw-on lids to block out moisture. Compared to steel cases, they're lighter, and they resist rust and dents. Clip them onto your belt to take with you on the job.
For technical drawings and 3-D models, click on a part number.
Drilling-Debris

Containment Disposable Bubbles


Make cleanup after drilling easy by containing chips and dust in these disposable bubbles. Use the adhesive backing to stick the bubble to the wall and pull the label to inflate. Drill through the bubble to the wall; then gently pull it off the surface to dispose.
Magnetic Chip Catchers for Drilling Metal
Magnets on these catchers attach to metal surfaces and contain metal chips created during drilling.
Plastic catchers can be mounted on top or underneath a metal surface.
Plastic Catcher with Top and Bottom Mounting Locations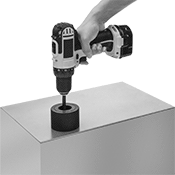 Top and
Bottom Mount Catcher Shown in Use

Top and
Bottom Mount Catcher
(Front)

Top and
Bottom Mount Catcher
(Back)
OD
ID

Ht.

No.

of
Magnets
Each
3"
2"
2"
10
0000000
000000
Vacuum Attachments for
Drilling-Dust

Containment
Vacuum Attachment

Hose Adapter
Use one of these attachments with a vacuum to suck up concrete dust during drilling to help meet OSHA standards for silica dust exposure. Each attachment has two air chambers—one chamber sucks up the dust, and the other maintains suction on the wall. The included vacuum hose adapter allows the attachment to be used with 2 1/2" vacuum hose.

Store a variety of sizes and styles of bits and adapters in one compact tray.
For Number
of Bits
For

Min.


Drawer

Ht.

Lg.

Wd.

Ht.

Material
Each
90
2

3/4

"
15"
3

5/8

"
1

1/4

"
Plastic
000000
000000

Fit these small cases comfortably in your pocket.
For Number
of Bits
For Bit Hex
Shank Size

Lg.

Wd.

Ht.

Material
Each
10

1/4

"
4

1/2

"
2

1/4

"
1"
Plastic
0000000
00000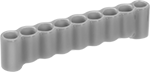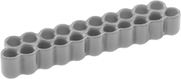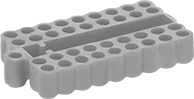 Keep these caddies in your tool drawer or take them with you.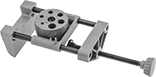 Drill precise holes without building a fixture. Clamp the jig onto your material and lift and turn the turret to select the hole size you need. Use the graduations to set the jig to the centerline of your workpiece.
For Drill Bit Size
For Drill Bit Size
Decimal Equivalent

Max.


Opening

Wd.

Lg.

Wd.

Ht.

Material
Each

3/16

",

1/4

",

5/16

",

3/8

",

7/16

",

1/2

"
0.1875", 0.25", 0.3125", 0.375", 0.4375", 0.5"
4"
7

1/8

"
3

1/2

"
2

1/8

"
Steel and Nylon Plastic
0000000
000000