Drill Bit Decimal Size Equivalents
About Countersinks
Countersinks cut a cone-shaped opening to install screws and rivets flush with a surface or hold workpieces between centers on a lathe. They can also be used for chamfering and deburring.
Drill Bit Sets

These jobbers'-length bits have the rigidity and length required for most applications.
Titanium-nitride (TiN) coated drill bits last longer and can drill at higher speeds than uncoated and oxide-coated drill bits.
Drill bits with a split point keep centered without a pilot hole.
No.

of
Pieces
Drill Bit Sizes Included
Point
Style
Specifications Met
For Use On
Each

Metric

Titanium-Nitride

(TiN)

Coated

High-Speed

Steel

11
1.0-6.0 mm (increments of 0.5 mm)
Split
NAS907 Type B
Steel, Hardened Steel, Tool Steel, Iron, Stainless Steel, Nickel, Aluminum, Brass, Bronze, Plastic
000000000
0000000
Quick-Change

Combination Countersinking Drill and Screwdriver Bit Sets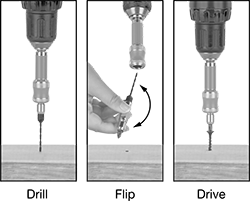 Fasten differently sized screws with these sets. They save you the effort of switching three separate bits in and out of a power tool, instead letting you flip between a countersinking drill and a screwdriver bit with a single hand. You can also attach your own countersinking drills and screwdriver bits as long as they have a 1/4" hex shank.
Countersinking drills have an 82° angle, allowing inch-sized flat- and oval-head screws to sit flush with the surface.
No.


of
Pieces
Includes
Countersink
Angle
Countersink
Body


Dia.

No.

of
Countersink
Flutes
Adapter
Hex
Shank Size
For
Use
On
Each

Black-Oxide

High-Speed

Steel Countersink

11
1 Drill-Bit Countersink for

3/32

" Drill Bit
1 Drill-Bit Countersink for

7/64

" Drill Bit
1 Drill Bit (

3/32

" Drill Bit Size)
2 Drill Bits (

7/64

" Drill Bit Size)
1 Phillips No. 1 Screwdriver Bit (1" O'all Lg.)
2 Phillips No. 2 Screwdriver Bits (1" O'all Lg.)
1 Reversible Shaft
1 Adapter
1 Hex L-Key
82°

3/8

"
4

5/16

"
Aluminum, Fiberglass, Plastic, Wood
0000000
000000
These assortments contain general-purpose bits.
Hex shank bits (also known as insert bits) are used in hand drivers or with a bit adapter in power tools.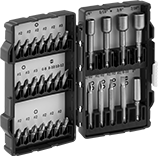 Phillips

Slotted

Torx
No.

of
Pieces
Components
Included
Bits Included
Adapters Included
Each

1/4"

Hex Shank

Size—

Steel

11
10 Bits
1 Adapter
Phillips: No. 0, No. 1, No. 2, No. 3 (1" O'all Lg.)
Slotted:

7/32

",

1/4

",

5/16

" (1" O'all Lg.)
Torx: T10, T15, T20 (1" O'all Lg.)
2

3/8

" Lg. Bit Adapter
for Power Tools
0000000
000000