Drinking Water Chillers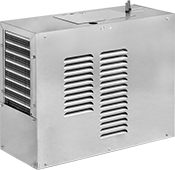 Attach one of these chillers to your nonrefrigerated drinking fountains to provide cold water. You can also install a bottle filler or drinking fountain nozzle directly to the unit. Made of galvanized steel for corrosion resistance, chillers are factory set at 50° F but can be adjusted. They meet NSF/ANSI safety standards for use with drinking water.
1.5-19 gph chillers need 6" clearance in front of the unit and 3" behind the unit for proper ventilation.
30 gph chiller needs 6" clearance in front and in back for proper ventilation.
Flow


Rate,


gph
For

No.


of


Fountains/Fillers

Wd.

Dp.

Ht.

Tube
Connection
Type
For
Tube
OD
Tube
Connection
Type
For
Tube
OD
Electrical
Connection
Type
Motor


Power,


hp

Current,


A
Voltage
Specifications
Met
Each
1.5
1
17"
7"
14"
Solder Connect

1/4

"
Solder Connect

1/4

"
Wire Leads

1/18

2
120V AC
NSF/ANSI 61, UL Listed
0000000
0000000
2
1
13

1/2

"
10

1/2

"
17

1/2

"
Solder Connect

1/4

"
Solder Connect

1/4

"
Wire Leads

1/20

3
120V AC
NSF/ANSI 61, UL Listed
0000000
000000
10
2
19

1/2

"
7

7/8

"
22"
Solder Connect

3/8

"
Solder Connect

3/8

"
Wire Leads

1/4

6
120V AC
NSF/ANSI 61, UL Listed
0000000
00000000
19
3
23"
10

1/4

"
25

3/4

"
Solder Connect

3/8

"
Solder Connect

3/8

"
Wire Leads

1/2

9.7
120V AC
NSF/ANSI 61, UL Listed
0000000
00000000
30
3
33

1/4

"
13

3/4

"
16"
Solder Connect

3/8

"
Solder Connect

3/8

"
Wire Leads

3/4

16
120V AC
NSF/ANSI 61, UL Listed
0000000
00000000