T-Slotted

Framing Fasteners
Screw and nut sets or nuts secure brackets and other accessories to rails.
For technical drawings and 3-D models, click on a part number.


Spring Nut with
Flanged-Button
Head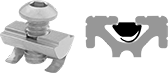 Spring-Tab
Nut with Button Head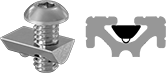 Spring-Loaded
Ball Nut with Button Head
Nut with
Handle and
Flanged-Button
Head


Hammer Nut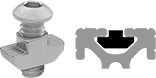 Hammer Nut with Button Head

Hammer Nut with Socket Head
Drop-in fasteners can be placed directly into the T-slot to attach components—no need to disassemble your existing structure. They consist of a screw and nut.
Push-in nuts clip in to the rail and expand when you tighten the screw. Use them to install lightweight objects such as document holders.
Button-head fasteners are more compact, so they're better for tight spaces than other screws for T-slotted framing.
Spring and spring-tab fasteners hold the nut in place so it won't slide down vertical rails.
Spring-loaded ball fasteners hold the nut in place so it won't slide along the rails.
Fasteners with a handle are easy to grip and drop in place. The flexible rubber handle bends to fit underneath objects mounted to the rail.
Fasteners with stud twist into place. Tighten with a socket wrench.
Hammer fasteners drop in to the slot and turn into place when the screw is tightened. They're serrated to break the anodized coating on the rail, allowing static to dissipate.
Self-aligning fasteners have a ridge that keeps them centered in the T-slot.
Single
Double
and
Quad
Triple
Color
Material
Handle
Material
Hole
Location
Thread
Size

For
Screw
Size

Fastener
Thread
Size

Fastener
Thread


Lg.

Pkg.




Qty.

Pkg.

1

1/2

"
3"
4

1/2

"
White
Plastic
__
Center
__
No. 12

__

5/8

",

3/4

", 1"
12
00000000
00000
40mm
80mm
120mm
White
Plastic
__
Center
__
No. 12

__

5/8

",

3/4

", 1"
12
00000000
0000
Each

Spring Nut with

Flanged-Button

Head

1

1/2

", 40mm
3", 80mm
4

1/2

"
Silver
Zinc-Plated Steel
__
Center
__
__
M6

16mm
__
00000000
0000
45mm
90mm
__
Silver
Zinc-Plated Steel
__
Center
__
__
M8

20mm
__
00000000
0000

Pkg.

1"
2"
3"
Silver
Zinc-Plated Steel
__
Center

1/4

"-20

__
__
__
4
00000000
0000
1"
2"
3"
Silver
Zinc-Plated Steel
__
Center
M6

__
__
__
4
00000000
0000
30mm, 1

1/2

", 40mm
60mm, 3", 80mm
__
Silver
Steel
__
Center
M4

__
__
__
1
0000000
0000
30mm, 1

1/2

", 40mm
60mm, 3", 80mm
4

1/2

"
Silver
Steel
__
Center
M5

__
__
__
1
00000000
0000
45mm
90mm
__
Silver
Steel
__
Center
M6

__
__
__
1
00000000
0000
Each

Spring-Tab

Nut with Button Head

1

1/2

"
3"
4

1/2

"
Silver
Zinc-Plated Steel
__
Center
__
__

5/16

"-18

11/16

"
__
000000000
0000
30mm
60mm
__
Silver
Zinc-Plated Steel
__
Center
__
__
M6

12mm
__
00000000
0000
40mm
80mm
__
Silver
Zinc-Plated Steel
__
Center
__
__
M6

16mm
__
00000000
0000
40mm
80mm
__
Silver
Zinc-Plated Steel
__
Center
__
__
M8

16mm
__
00000000
0000
45mm
90mm
__
Silver
Zinc-Plated Steel
__
Center
__
__
M8

20mm
__
00000000
0000

Spring-Loaded

Ball Nut with Button Head

1"
2"
3"
Silver
Zinc-Plated Steel
__
Offset
__
__

1/4

"-20

9/16

"
__
000000000
0000
1

1/2

"
3"
4

1/2

"
Silver
Zinc-Plated Steel
__
Offset
__
__

5/16

"-18

11/16

"
__
000000000
0000
20mm
40mm
__
Silver
Zinc-Plated Steel
__
Offset
__
__
M5

8mm
__
0000000
0000
40mm
80mm
__
Silver
Zinc-Plated Steel
__
Offset
__
__
M6

16mm
__
0000000
0000
40mm
80mm
__
Silver
Zinc-Plated Steel
__
Offset
__
__
M8

16mm
__
0000000
0000

Pkg.

40mm
80mm
__
Silver
304 Stainless Steel
__
Offset
__
__
M5

8mm
1
00000000
0000
40mm
80mm
__
Silver
304 Stainless Steel
__
Offset
__
__
M6

16mm
1
00000000
0000
40mm
80mm
__
Silver
304 Stainless Steel
__
Offset
__
__
M8

16mm
1
00000000
0000

Nut with Handle and

Flanged-Button

Head

1"
2"
3"
Black
Zinc-Plated Steel
Rubber
Offset
__
__

1/4

"-20

1/2

"
4
000000000
00000
1

1/2

"
3"
4

1/2

"
Black
Zinc-Plated Steel
Rubber
Offset
__
__

5/16

"-18

11/16

"
4
000000000
00000
Each
20mm
40mm
__
Black
Zinc-Plated Steel
Rubber
Offset
__
__
M5

8mm
__
00000000
0000
40mm
80mm
__
Black
Zinc-Plated Steel
Rubber
Offset
__
__
M6

16mm
__
00000000
0000
40mm
80mm
__
Black
Zinc-Plated Steel
Rubber
Offset
__
__
M8

16mm
__
00000000
0000
45mm
90mm
__
Black
Zinc-Plated Steel
Rubber
Offset
__
__
M8

16mm
__
00000000
0000

Nut with Stud

1"
2"
3"
Silver
Zinc-Plated Steel
__
__
__
__

1/4

"-20

1/2

"
__
000000000
0000
1

1/2

"
3"
4

1/2

"
Silver
Zinc-Plated Steel
__
__
__
__

5/16

"-18

31/32

"
__
000000000
0000
30mm
60mm
__
Silver
Zinc-Plated Steel
__
__
__
__
M6

22mm
__
00000000
0000
40mm
80mm
__
Silver
Zinc-Plated Steel
__
__
__
__
M8

22mm
__
00000000
0000
45mm
90mm
__
Silver
Zinc-Plated Steel
__
__
__
__
M8

22mm
__
00000000
0000

Pkg.

45mm
90mm
__
Silver
316 Stainless Steel
__
__
__
__
M8

25mm
1
00000000
0000

Hammer Nut

1

1/2

", 40mm
3", 80mm
4

1/2

"
Silver
Zinc-Plated Steel
__
Center

1/4

"-20

__
__
__
1
00000000
0000
1

1/2

", 40mm
3", 80mm
4

1/2

"
Silver
Zinc-Plated Steel
__
Center
10-32

__
__
__
1
00000000
0000
1

1/2

", 40mm
3", 80mm
4

1/2

"
Silver
Zinc-Plated Steel
__
Center
M5

__
__
__
1
00000000
0000
1

1/2

", 40mm
3", 80mm
4

1/2

"
Silver
Zinc-Plated Steel
__
Center
M6

__
__
__
1
00000000
0000
25mm, 1"
1", 50mm
3"
Silver
Zinc-Plated Steel
__
Center
M4

__
__
__
1
00000000
0000
25mm, 1"
1", 50mm
3"
Silver
304 Stainless Steel
__
Center
M4

__
__
__
1
00000000
0000
30mm
60mm
__
Silver
Zinc-Plated Steel
__
Center

1/4

"-20

__
__
__
1
00000000
0000
30mm
60mm
__
Silver
Zinc-Plated Steel
__
Center
10-32

__
__
__
1
00000000
0000
30mm
60mm
__
Silver
Zinc-Plated Steel
__
Center
M4

__
__
__
1
00000000
0000
30mm
60mm
__
Silver
Zinc-Plated Steel
__
Center
M5

__
__
__
1
00000000
0000
30mm
60mm
__
Silver
304 Stainless Steel
__
Center

1/4

"-20

__
__
__
1
00000000
0000
30mm
60mm
__
Silver
304 Stainless Steel
__
Center
M6

__
__
__
4
0000000
00000
45mm
90mm
__
Silver
Zinc-Plated Steel
__
Center

1/4

"-20

__
__
__
1
0000000
0000
45mm
90mm
__
Silver
Zinc-Plated Steel
__
Center
10-32

__
__
__
1
00000000
0000
45mm
90mm
__
Silver
Zinc-Plated Steel
__
Center

5/16

"-18

__
__
__
1
00000000
0000
45mm
90mm
__
Silver
Zinc-Plated Steel
__
Center
M4

__
__
__
1
00000000
0000
45mm
90mm
__
Silver
Zinc-Plated Steel
__
Center
M5

__
__
__
1
00000000
0000
45mm
90mm
__
Silver
Zinc-Plated Steel
__
Center
M6

__
__
__
1
00000000
0000
45mm
90mm
__
Silver
304 Stainless Steel
__
Center

1/4

"-20

__
__
__
1
00000000
0000
45mm
90mm
__
Silver
304 Stainless Steel
__
Center

5/16

"-18

__
__
__
1
00000000
0000
45mm
90mm
__
Silver
304 Stainless Steel
__
Center
M6

__
__
__
1
00000000
0000
45mm
90mm
__
Silver
304 Stainless Steel
__
Center
M8

__
__
__
1
00000000
0000

Hammer Nut with Button Head

1"
2"
3"
Silver
Zinc-Plated Steel
__
Center
__
__
M4

10mm
4
00000000
0000
Each
1

1/2

"
3"
__
Silver
Zinc-Plated Steel
__
Center
__
__

1/4

"-20

9/16

"
__
0000000
000

Pkg.

30mm
60mm
__
Silver
Zinc-Plated Steel
__
Center
__
__
M6

16mm
4
00000000
0000
Each
40mm
80mm
__
Silver
Zinc-Plated Steel
__
Center
__
__
M6

16mm
__
0000000
000
45mm
90mm
__
Silver
Zinc-Plated Steel
__
Center
__
__
M8

20mm
__
00000000
000

Pkg.

45mm
90mm
__
Silver
304 Stainless Steel
__
Center
__
__
M8

20mm
1
00000000
0000
Each

Hammer Nut with Socket Head

1"
2"
__
Silver
Zinc-Plated Steel
__
Center
__
__
10-32

5/8

"
__
0000000
000

Pkg.

1

1/2

"
3"
4

1/2

"
Silver
Zinc-Plated Steel
__
Center
__
__

1/4

"-20

5/8

"
4
00000000
0000
30mm
60mm
__
Silver
Zinc-Plated Steel
__
Center
__
__
M6

16mm
4
00000000
0000
40mm
80mm
120mm
Silver
Zinc-Plated Steel
__
Center
__
__
M6

16mm
4
00000000
0000