Drum Plugs

A

B

C

D

E

F

G

H

J
For installation and removal of these plugs, use drum-plug wrenches.
Plugs with PTFE seals stand up to corrosive chemicals such as nitric acid.
Style D have a M64 thread size, which is also known as Buttress threads.
Drum-plug caps (sold separately) fit over drum plugs to provide dust protection as well as evidence of tampering. They have a breakaway seal and are for one-time use.
Drum Plug Gaskets

Add a gasket or replace one that's worn out to ensure a tight seal.
Locking Fill Caps for Drums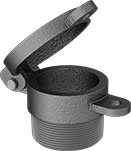 Male

Female
Prevent tampering with the contents of your drum while allowing access for filling.
Drum Locks
Padlockable locks for closed-head drums replace the plugs on 3/4" and 2" drum openings. Made of brass, they're non-sparking and resist corrosion in wet environments. Slide the bar through the hole in each plug and lock with a padlock (not included).
Keyed locks for closed-head drums fit over standard drum plugs and caps. Use the included keys to secure.