Deep-Reach

Suction Pumps for Fuel

Remove liquid from hard-to-reach areas with a long, flexible intake tube that extends into deep and hard-to-access tanks.
Always bond and ground your application for static control. For more information about bonding and grounding, see Sections 1910.106 and 1910.107 of the Federal OSHA Code or see bonding and grounding equipment.
Pumps with a PVC housing have a handle that acts as a siphon when fully extended.
Pumps with a brass housing come with 1/4" and 5/16" ID dipstick probes for engine and gear box use.
Foot-Operated

Drum Pumps for Water and Oil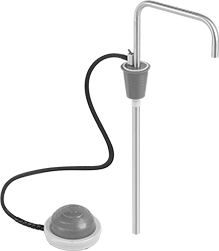 The foot pedal allows hands-free operation. These pumps have a telescoping intake tube that works with containers of different heights.
Flow


Rate,

gpm
For Container


Size,

gal.

Max.




Viscosity,

cP

Min.

Max.

For Drum
Opening Size
Includes
Tube
OD
Tube


Lg.

Each
6
55
500
35°
100°
1

1/8

"-2

3/4

"
Drum Connector

1/2

"
42

1/2

"-52"
0000000
0000000