Analyze gases, test for leaks, and check the effects of high altitudes on electronic components with these chambers. They remove air and gases to create a space void of molecules.
Acrylic chambers are clear, so the material inside is visible from all angles. Acrylic releases air at a faster rate than steel, so these chambers cannot reach vacuum levels as high as those of stainless steel chambers.
Stainless steel chambers reach and maintain significantly higher vacuum levels than acrylic vacuum chambers, and they work at higher temperatures. They are more chemical resistant than acrylic chambers, making them appropriate for use with lab substances such as acetone and isopropyl alcohol.
Quick- and claw-clamp connections allow you to connect and disconnect components easily. The clamps join two flanged ends and a rubber O-ring. Quick-clamp connections are also known as ISO-KF; you'll need a ring and quick clamp to complete the connection. Claw-clamp connections are also known as ISO-K; they require a ring and multiple claw clamps to secure.
Flanged connections create a seal that is tighter than clamp connections. Also known as CF connections, the flanges have sharp edges that press into a copper gasket as you tighten the bolts. The tighter seal means chambers with flanged connections can reach a higher vacuum level than chambers with clamp connections. Choose flanged connections for applications that require ultra-high vacuum, such as surface analysis experiments.
Maximum vacuum is measured in torr. The lower the torr value, the higher the level of vacuum.
For technical drawings and 3-D models, click on a part number.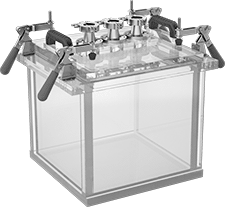 Acrylic
Max.


Vacuum
Style

No.


of
High Vacuum
Connection
Type

High-Vacuum


Flange
Size
Flange
OD
For
Tube
OD

Ht.

Wd.

Lg.

Ht.

Wd.

Lg.

Temp.




Range,




°F

Includes
Each
7.5 × 10 -2 torr @ 72° F
Quick Clamp
3
ISO-KF
25
1.57"
1"
12"
12"
12"
18"
15"
23"
-40° to 100°
Connection Clamps, Rings
0000000
000000000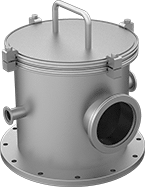 Stainless Steel with
Quick-
and
Claw-Clamp
Connections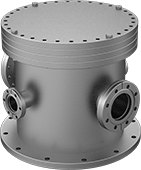 Stainless Steel with Flanged Connections
Max.


Vacuum
Style

No.


of
High Vacuum
Connection
Type

High-Vacuum


Flange
Size
Flange
OD
For
Tube
OD
Bolt Hole


Dia.




(No. of)

Bolt
Circle


Dia.

Dia.

Ht.

Dia.

Ht.

Temp.




Range,




°F

Each
1 × 10 -7 torr @ 72° F
Claw Clamp
Claw Clamp
Quick Clamp
Quick Clamp
4
ISO-KF
ISO-KF
ISO-K
ISO-K
25
40
63
100
1.57"
2.16"
3.74"
5.12"
1"
1

1/2

"
2

1/2

"
4"
__
__
9

3/4

"
9

3/8

"
13"
13.63"
-10° to 240°
0000000
000000000
1 × 10 -11 torr @ 72° F
Flanged
4
CF
16
40
63
100
1

21/64

"
2

3/4

"
4

1/2

"
6"

3/4

"
1

1/2

"
2

1/2

"
4"

11/64

" (6)


17/64

" (6)


21/64

" (8)


21/64

" (16)
1

1/16

"
2

5/16

"
3

5/8

"
5

1/8

"
9

3/4

"
9

1/2

"
13"
11.26"
-320° to 570°
0000000
00000000