Standard Duct and Fittings

No need for clamps or connectors—duct and fittings press-fit together. Male ends are crimped or tapered, making them slightly smaller than a female end for simple assembly.
Galvanized steel has good corrosion resistance.
For technical drawings and 3-D models, click on a part number.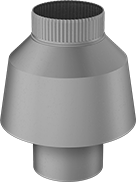 Downdraft diverters have an internal cone that prevents drafts from extinguishing pilot lights.
Trade
Size
Female
ID
Male
OD
Gauge
End
Construction
Each
3
3"
2

7/8

"
26
Crimped
0000000
000000
4
4"
3

7/8

"
26
Crimped
0000000
00000
5
5"
4

7/8

"
26
Crimped
0000000
00000
6
6"
5

7/8

"
26
Crimped
0000000
00000
7
7"
6

7/8

"
26
Crimped
0000000
00000
8
8"
7

7/8

"
26
Crimped
0000000
000000
10
10"
9

7/8

"
24
Crimped
0000000
000000
12
12"
11

7/8

"
24
Crimped
0000000
000000