Duct hose is designed for use in blowing and venting applications. While it is typically used to exhaust air and fumes, some types of duct hose can carry materials such as dust, chips, shavings, and liquids.
Flexibility— Flexibility takes into account several factors, including bend radius, material, and hose diameter. We've rated the flexibility for each hose in general terms:

Very Flexible

Flexible

Rigid
Bend Radius— An indicator of how much you can bend a hose without damaging it, bend radius is measured from the center of the bend to the inside edge of the hose. The smaller the measurement, the more flexible the hose.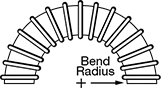 Compressibility— Compressibility is listed as a percentage. The lower the percentage, the more compressible the hose. For example, if a 10-ft. hose compresses to 20%, the hose compresses to 2 ft. Hose lengths given are the extended length, unless otherwise stated.

Spiral Direction— The direction of the hose spiral determines whether you need a right-hand clamp or a left-hand clamp. When looking at the end of the hose, a right-hand spiral will twist away from you clockwise; a left-hand spiral will twist away from you counterclockwise.


Duct Hose and Fittings for Fumes
Duct Hose and Fittings for Dust
Duct Hose and Fittings for Metal Chips and Shavings
Duct Hose and Fittings for Wood Chips and Plastic Pellets
Antistatic Duct Hose for Dry Food
Duct Hose and Fittings for Air
Duct Hose and Fittings for Liquids
Sanitary
Snap-In

Duct Hose and Fittings
Any-Which-Way

Coolant Hose