System of Measurement

System of Measurement
Connection Type

Connection Type
End Construction

End Construction
Duct Construction

Duct Construction
DFARS (Defense Acquisition Regulations Supplement)

DFARS

(Defense

Acquisition

Regulations

Supplement)
RoHS (Restriction of Hazardous Substances)

RoHS

(Restriction

of
Hazardous

Substances)
Quick-Disconnect

Duct and Fittings

Join duct and fittings with quick-release clamps for faster disassembly and cleanout than other duct systems.
Galvanized steel has good corrosion resistance. 304 stainless steel is the most corrosion resistant.
For technical drawings and 3-D models, click on a part number.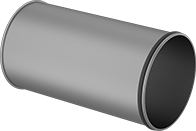 Adjustment sleeves extend your duct length. Cut duct, then slide on the sleeve. They include an o-ring for the clamp to grasp.