Dust Pans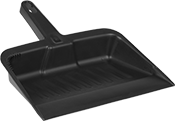 A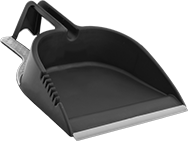 B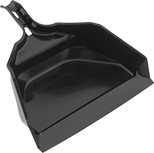 C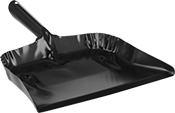 D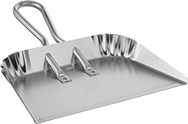 E
Style A, C, and D dust pans have a hole in the handle for hanging. Style B snaps onto a 15/16" or 1" dia. broom handle. Step on the convenient foothold to keep it in place without bending over. Style E is lightweight, corrosion resistant, and has a large looped handle for hanging.
Upright Dust Pans

Plastic with Rear Wheels

Rear Wheels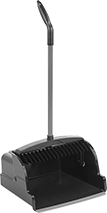 Plastic with Integrated Teeth

Integrated Teeth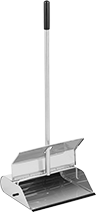 Steel and Stainless Steel
Reduce strain from bending while cleaning.
Plastic—To prevent spills, enclosed pan snaps into upright position when lifted. Rear wheels won't scratch floors. Pans with integrated teeth help you clean broom bristles straight into the pan.
Steel and Stainless Steel—Lid opens automatically when you place these pans on the floor and shuts when lifted.
Wd.

Dp.

Ht.

Material
Color
Style

Lg.

Material
Features
Each
12

3/4

"
11

1/4

"
5"
Plastic
Black
Upright
28"
Plastic
Rear Wheels
0000000
000000
16"
14"
6

1/2

"
Plastic
Black
Upright
23"
Steel
Integrated Teeth
0000000
00000
12"
10"
3"
Powder-Coated Steel
Beige
Upright
28"
Steel
__
000000
00000
12"
10"
3"
Stainless Steel
__
Upright
28"
Steel
__
0000000
000000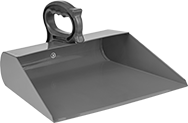 The thin, tapered edge forms a seal to pick up anything from liquids to sawdust. Includes a loop for hanging and has a corrosion-resistant finish.
Wd.

Dp.

Ht.

Material
Color
Each
14"
10"
3

1/2

"
Painted Steel
Red
0000000
000000
Nonsparking Dust Pans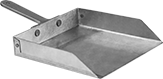 Made of aluminum-bronze that is Factory Mutual approved, these pans inhibit sparking. Handles have a hole for hanging. Dust pans satisfy OSHA requirements that specify nonsparking tools for locations where flammable vapors and combustible residues are present. Nonsparking tools are not, however, classified as antistatic because they do conduct electricity.
Note: Do not use these tools in direct contact with acetylene due to the possible risk of explosion.
Metal-

and

X-Ray-Detectable

Dust Pans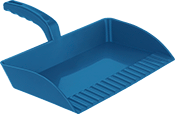 Blue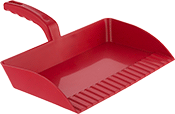 Red
Keep food processing areas tidy with these dust pans—they have metal and chemical additives that will set off metal detectors and show up on an X-ray if they fall into your line. They're also brightly colored, so it's easy to find and retrieve any broken pieces. They help you comply with Hazard Analysis and Critical Control Point (HACCP) programs to make sure contaminated food doesn't leave your plant. These FDA-compliant dust pans also are safe for direct contact with food.
The curved handle is more ergonomic than straight handles, and helps prevent hand fatigue. A retention ridge on the front edge of the dust pan stops dust and debris from falling out once you've swept it in.