About Hearing Protection
Earmuffs and earplugs are rated by the Noise Reduction Rating (NRR) guidelines, which are enforced by OSHA.
Earplug Dispensers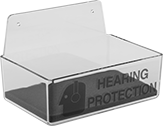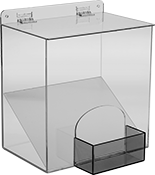 Keep earplugs accessible and ready to use. These dispensers can be mounted to the wall. Earplugs are sold separately.
Earplugs with Dispenser
The dispenser is sealed to keep plugs sanitary. It dispenses one pair at a time and is disposable when empty.
Plugs roll for insertion into your ear and then expand to conform to the shape of your ear canal.
Earplugs with cord come in individually packaged pairs.
Earplugs with dispenser cannot be sold outside of the United States and Canada due to product labeling requirements.
Shape
Noise
Reduction


Rating,

dB
Material
Color

Ht.

Wd.

Dp.

Material
Mounting
Location
Mounting
Fasteners
Included
Number of
Earplugs
Included
Specifications
Met
Cannot
Be
Sold To
Each

Roll Up

Bullet
33
Foam
Green
9

1/2

"
6"
6"
Plastic
Wall
Yes
250 Pairs
ANSI S3.19
Outside United States and Canada
000000
000000
Bullet
33
Foam
Green
13

1/2

"
6"
6"
Plastic
Wall
Yes
500 Pairs
ANSI S3.19
Outside United States and Canada
000000
000000
Flared Bullet
28
Foam
Green
9"
6"
6"
Plastic
Wall
Yes
250 Pairs
ANSI S3.19
Outside United States and Canada
000000
00000
Flared Bullet
33
Foam
Green
13

1/2

"
6"
6"
Plastic
Wall
Yes
500 Pairs
ANSI S3.19
Outside United States and Canada
000000
000000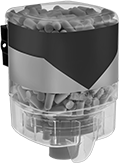 Bullet with Cord
Shape
Noise
Reduction


Rating,

dB
Material
Color
Cord
Material

Ht.

Wd.

Dp.

Material
Mounting
Location
Mounting
Fasteners
Included
Number of
Earplugs
Included
Specifications
Met
Cannot
Be
Sold To
Cord
Type
Each

Roll Up

Bullet
33
Foam
Green
Plastic
12

1/2

"
6"
6"
Plastic
Wall
Yes
150 Pairs
ANSI S3.19
Outside United States and Canada
Nondetachable
000000
000000