Selecting Compatible Lead Screws and Nuts
Handle Nuts

A

B
C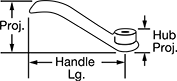 Use these handles for quick assembly and disassembly. Their offset grip provides leverage, making them a good alternative to wing nuts. Long shafts can thread through these handles for mounting versatility.
Iron handle nuts with a zinc-plated finish have corrosion resistance.
Steel handle nuts are stronger than iron.
Stainless steel handle nuts have excellent corrosion resistance, making them the best choice for harsh environments. They also have good chemical resistance.
For technical drawings and 3-D models, click on a part number.
Size

Dp.

Pitch
Handle

Lg.

Projection
Hub
Projection
Each

Threaded Through Hole

Iron

A

1/4

"-20

9/16

"
__
3

3/16

"
1

9/16

"

9/16

"
000000000
00000
A

1/4

"-28

9/16

"
__
3

3/16

"
1

9/16

"

9/16

"
000000000
0000
A

5/16

"-18

9/16

"
__
3

3/16

"
1

9/16

"

9/16

"
000000000
0000
A

5/16

"-24

9/16

"
__
3

3/16

"
1

9/16

"

9/16

"
000000000
0000
A

3/8

"-16

5/8

"
__
3

3/4

"
1

13/16

"

5/8

"
000000000
0000
A

3/8

"-24

5/8

"
__
3

3/4

"
1

13/16

"

5/8

"
000000000
0000
A

7/16

"-14

5/8

"
__
3

3/4

"
1

13/16

"

5/8

"
000000000
0000
A

7/16

"-20

5/8

"
__
3

3/4

"
1

13/16

"

5/8

"
000000000
0000
A

1/2

"-13

5/8

"
__
3

15/16

"
1

7/8

"

5/8

"
000000000
0000
A

1/2

"-20

5/8

"
__
3

15/16

"
1

7/8

"

5/8

"
000000000
0000
A

5/8

"-11

3/4

"
__
4

1/8

"
1

5/8

"

3/4

"
000000000
0000
A

3/4

"-10

3/4

"
__
4

1/8

"
1

5/8

"

3/4

"
000000000
0000
A

3/4

"-16

3/4

"
__
4

1/8

"
1

5/8

"

3/4

"
000000000
0000
A
M8

14mm
1.25 mm
81mm
40mm
14mm
000000000
0000
A
M12

16mm
1.75 mm
95mm
46mm
16mm
000000000
0000
A
M16

19mm
2 mm
105mm
41mm
19mm
000000000
0000
A
M18

19mm
2.5 mm
105mm
41mm
19mm
000000000
0000
A

1/4

"-20

9/16

"
__
3

3/16

"
1

9/16

"

9/16

"
000000000
0000
A

1/4

"-28

9/16

"
__
3

3/16

"
1

9/16

"

9/16

"
000000000
0000
A

5/16

"-18

9/16

"
__
3

3/16

"
1

9/16

"

9/16

"
000000000
0000
A

5/16

"-24

9/16

"
__
3

3/16

"
1

9/16

"

9/16

"
000000000
0000
A

3/8

"-16

5/8

"
__
3

3/4

"
1

13/16

"

5/8

"
000000000
0000
A

3/8

"-24

5/8

"
__
3

3/4

"
1

13/16

"

5/8

"
000000000
0000
A

7/16

"-14

5/8

"
__
3

3/4

"
1

13/16

"

5/8

"
000000000
0000
A

7/16

"-20

5/8

"
__
3

3/4

"
1

13/16

"

5/8

"
000000000
0000
A

1/2

"-13

5/8

"
__
3

15/16

"
1

7/8

"

5/8

"
000000000
0000
A

1/2

"-20

5/8

"
__
3

15/16

"
1

13/16

"

5/8

"
000000000
0000
A

5/8

"-11

3/4

"
__
4

1/8

"
1

5/8

"

3/4

"
000000000
0000
A

5/8

"-18

3/4

"
__
4

1/8

"
1

5/8

"

3/4

"
000000000
0000
A

3/4

"-10

3/4

"
__
4

1/8

"
1

5/8

"

3/4

"
000000000
0000
A

3/4

"-16

3/4

"
__
4

1/8

"
1

5/8

"

3/4

"
000000000
0000
A
M8

14mm
1.25 mm
81mm
40mm
14mm
000000000
0000
A
M12

16mm
1.75 mm
95mm
46mm
16mm
000000000
0000
A
M16

19mm
2 mm
105mm
41mm
19mm
000000000
0000
A
M18

19mm
2.5 mm
105mm
41mm
19mm
000000000
0000

Steel

B

3/8

"-16

19/32

"
__
3

3/4

"
1

11/16

"

19/32

"
000000000
00000
B

1/2

"-13

21/32

"
__
4"
1

11/16

"

21/32

"
000000000
00000
B

5/8

"-11

1/2

"
__
4

3/8

"
1

3/4

"

1/2

"
000000000
00000
B

3/4

"-10

11/16

"
__
5

7/16

"
1

13/16

"

11/16

"
000000000
00000

Stainless Steel

A

3/8

"-16

3/4

"
__
4

1/8

"
1

5/8

"

3/4

"
00000000
00000
A

3/8

"-24

3/4

"
__
4

1/8

"
1

5/8

"

3/4

"
00000000
00000
A

1/2

"-13

3/4

"
__
4

1/8

"
1

5/8

"

3/4

"
00000000
00000
A

1/2

"-20

3/4

"
__
4

1/8

"
1

5/8

"

3/4

"
00000000
00000
A

5/8

"-11

3/4

"
__
4

1/8

"
1

5/8

"

3/4

"
00000000
00000
A

5/8

"-18

3/4

"
__
4

1/8

"
1

5/8

"

3/4

"
00000000
00000
A

3/4

"-10

3/4

"
__
4

1/8

"
1

5/8

"

3/4

"
00000000
00000
A

3/4

"-16

3/4

"
__
4

1/8

"
1

5/8

"

3/4

"
00000000
00000
C

5/16

"-18

7/16

"
__
2

17/32

"
1

1/4

"

7/16

"
000000
00000
C

3/8

"-16

9/16

"
__
3

1/16

"
1

17/32

"

9/16

"
000000
00000
C

1/2

"-13

3/4

"
__
4

1/32

"
2"

3/4

"
000000
00000
C

5/8

"-11

7/8

"
__
5

1/16

"
2

1/2

"

7/8

"
0000000
00000
C

3/4

"-10

1

1/8

"
__
6

5/32

"
3

1/16

"
1

1/8

"
0000000
00000