How to

Identify and Measure Fittings
Pipe size is an industry designation, not the actual size. View information about how to measure threaded and unthreaded pipe and pipe fittings.
About Actuated
On/Off

Valves
Push-to-Connect

Tube Fittings for Air

Temperature

Range:

0° to 170° F

Tubing:

Use with firm

(Durometer

95A-45D)

polyethylene plastic or polyurethane rubber
Specifications

Met:

ISO

14743,

except polybutylene plastic fittings
Insert tubing into these fittings and an internal gripping ring and O-ring hold the tubing tight. They are also known as instant fittings. To disconnect, push on the release ring and pull the tubing out of the fitting. Fittings have good corrosion resistance.
Identification rings (sold separately) snap over the release ring so you can color-code your lines.
Clips (sold separately) align and organize your tubing and fittings.
Fittings with PTFE thread sealant offer extra protection against leaks.
Metric male threads have either a gasket or a thread sealant to protect against leaks. BSPP and UN/UNF (SAE) male threads have a gasket to protect against leaks. UN/UNF (SAE) threads are also known as O-ring boss threads.
For technical drawings and 3-D models, click on a part number.
Threaded Solenoid Diverting Valves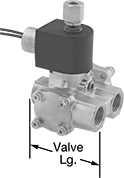 For Use

With:

Air,

Argon,

Helium,

Krypton,

Neon,

Oil,

Water,

Xenon
Seal

Material:

Buna-N Rubber
These valves operate on electricity to automatically divert flow between ports. All can direct flow from the center-port inlet to either side-port outlet. Valves cannot shut off flow. They require a minimum pressure drop between the inlet and outlet for operation; the upstream pressure must be 10 psi greater than the downstream pressure. The actuator is directly mounted to the valve body to minimize movement and reduce wear.
Flow coefficient (Cv) is the amount of water (in gallons per minute) at 60° F that will flow through a fully open valve with a difference of 1 psi between the inlet and the outlet.
For technical drawings and 3-D models, click on a part number.
Pipe
Size

Flow
Pattern
Flow
Coefficient


(Cv)

Max.


Pressure
Pressure
Drop

Min.

Pressure
Drop
Required

Temp.




Range,




°F

Actuation
Time
Valve


Lg.

O'all




Ht.

Each

Brass Body with Wire

Leads—

120V AC

NPT Female × NPT Female × NPT Female

1/2

L-Pattern
3.6
180 psi @ 165° F
Pressure Drop Assisted
10 psi
35° to 165°
0 sec.
3

3/8

"
5

1/8

"
0000000
0000000

3/4

L-Pattern
7.3
180 psi @ 165° F
Pressure Drop Assisted
10 psi
35° to 165°
0 sec.
4

1/4

"
6

1/16

"
0000000
000000