Choosing an Electrical Switch
Durable Disconnect Switches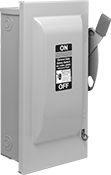 Protected by a steel enclosure, these switches withstand tougher conditions than switches in a plastic housing. Also known as safety switches, they have quick-make/quick-break action to eliminate arcing and prolong switch life. They have a lockout to secure in the off position using a padlock (not included).
Use switches with a fuse holder where overload protection is needed. When used with UL Class RK1, RK5, or T fuses, they require rejection-style fuse clips. Note: Horsepower ratings are based on time-delay fuses installed.
Switches with safety interlock keep the door closed when the switch is on, and prevent the switch from turning on when the door is open.
For technical drawings and 3-D models, click on a part number.
Current, A

Voltage
Switch
Action
Industry
Designation
Electrical
Phase


(hp)

For


No.

of
Wires
For
Fuse
Class

Ht.

Wd.

Environmental
Rating
Specifications
Met
Each

Enamel-Coated

Steel with Black Actuator

3 Circuits

with

Lockout,

Safety Interlock

30
600V AC/
600V DC
Stays Switched (Maintained)
3PDT
Single (10 hp @ 600 V AC)
Single (5 hp @ 240 V AC)
Single (7

1/2

hp @ 480 V AC)
3
__
29

15/16

"
12"
NEMA 1

UL Listed

000000
0000000
60
600V AC/
600V DC
Stays Switched (Maintained)
3PDT
Single (10 hp @ 240 V AC)
Single (25 hp @ 480 V AC)
Single (30 hp @ 600 V AC)
3
__
29

15/16

"
12"
NEMA 1

UL Listed

000000
00000000
100
600V AC/
600V DC
Stays Switched (Maintained)
3PDT
Single (20 hp @ 240 V AC)
Single (40 hp @ 480 V AC)
Single (40 hp @ 600 V AC)
3
__
29

15/16

"
12"
NEMA 1

UL Listed

000000
00000000

3 Circuits

with

Lockout,

Safety

Interlock,

Fuse Holder

30
600V AC/
600V DC
Stays Switched (Maintained)
3PDT
Single (3 hp @ 240 V AC)
Three (5 hp @ 480 V AC)
Three (7

1/2

hp @ 600 V)
3
RK1, RK5, J, K5, H
38

7/16

"
12"
NEMA 1

UL Listed

000000
00000000
60
600V AC/
600V DC
Stays Switched (Maintained)
3PDT
Single (5 hp @ 480 V AC)
Three (15 hp @ 480 V AC)
Three (15 hp @ 600 V AC)
3
RK1, RK5, J, K5, H
38

7/16

"
12"
NEMA 1

UL Listed

000000
00000000
100
600V AC/
600V DC
Stays Switched (Maintained)
3PDT
Single (10 hp @ 480 V AC)
Three (25 hp @ 480 V AC)
Three (30 hp @ 600 V AC)
3
RK1, RK5, J, K5, H
38

7/16

"
12"
NEMA 1

UL Listed

000000
00000000