About Industry Designation for Cable Insulation
Light Duty
Multi-Outlet

Extension Cords
Designed for indoor applications, these cords are often used to power multiple appliances from one outlet.
Cords with a 90° elbow plug fit flush against a wall outlet, so they fit behind machinery or in areas where space is tight.
SPT cords have a flat cord shape so they fit in tight spaces.

90° Elbow
Plug ×
Socket with Twist Cover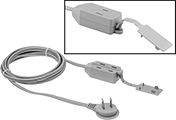 90° Elbow
Plug ×
Socket with Attached Cover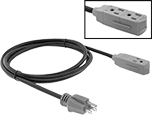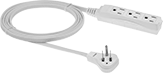 Lg.,




ft.

Features

No.


of
Outlets
Wire
Gauge

Current,


A
Voltage

Power-Indicating


Light

Wd.

Insulation
Material
Industry
Designation
Specifications
Met
Choose
a
Color
Each

90°

Elbow NEMA

1-15

Plug × NEMA

1-15

Socket

3
Twist Cover
3
16

13
125V AC
Without Power-Indicating Light
0.31"
PVC Plastic
SPT-2

UL Listed

White
00000000
00000
7
Attached Cover
3
16

13
125V AC
Without Power-Indicating Light
0.3"
PVC Plastic
SPT-2

UL Listed

White
00000000
0000
7
Attached Cover
3
16

13
125V AC
Without Power-Indicating Light
0.31"
PVC Plastic
SPT-2

UL Listed

Beige
00000000
0000
7
Twist Cover
3
16

13
125V AC
Without Power-Indicating Light
0.31"
PVC Plastic
SPT-2

UL Listed

White
00000000
0000
13
Attached Cover
3
16

13
125V AC
Without Power-Indicating Light
0.3"
PVC Plastic
SPT-2

UL Listed

White
00000000
0000
13
Twist Cover
3
16

13
125V AC
Without Power-Indicating Light
0.31"
PVC Plastic
SPT-2

UL Listed

White
00000000
00000

NEMA

5-15

Plug × NEMA

5-15

Socket

3
__
3
16

13
125V AC
Without Power-Indicating Light
0.36"
PVC Plastic
SPT-2

UL Listed

Yellow
00000000
0000
8
__
3
16

13
125V AC
Without Power-Indicating Light
0.36"
PVC Plastic
SPT-2

UL Listed

Brown
00000000
00000

90°

Elbow NEMA

5-15

Plug × NEMA

5-15

Socket

6
__
3
16

13
125V AC
Without Power-Indicating Light
0.36"
PVC Plastic
SPT-2

UL Listed

Beige
00000000
0000
6
__
3
16

13
125V AC
Without Power-Indicating Light
0.36"
PVC Plastic
SPT-2

UL Listed

Black
00000000
0000
6
__
3
16

13
125V AC
Without Power-Indicating Light
0.36"
PVC Plastic
SPT-2

UL Listed

White
00000000
0000
8
__
3
16

13
125V AC
Without Power-Indicating Light
0.38"
PVC Plastic
SPT-2

UL Listed

0000000
00000
10
__
3
16

13
125V AC
Without Power-Indicating Light
0.36"
PVC Plastic
SPT-2

UL Listed

Black
00000000
00000
10
__
3
16

13
125V AC
Without Power-Indicating Light
0.36"
PVC Plastic
SPT-2

UL Listed

White
00000000
00000