Conformable
Low-Friction

Tape Made with Teflon® PTFE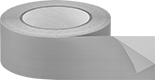 Also known as skived tape, this low-friction tape stretches to conform to irregular surfaces.

PEEK offers the best wear and abrasion resistance of our low-friction tapes. Use it for wire wraps and sliding bearing surfaces.
Tape with acrylic adhesive resists humidity and harsh chemicals.
Tape with silicone adhesive withstands temperatures up to 400° F.
Wd.

Lg.,




ft.

Overall


Thick.

Temperature


Range,

°F

Color
Each

Acrylic Adhesive

1"
9
0.004"
-40° to 300°
Beige
0000000
000000
1"
9
0.007"
-40° to 300°
Beige
0000000
00000
1"
9
0.012"
-40° to 300°
Beige
0000000
00000
2"
1
0.004"
-40° to 300°
Beige
0000000
0000
2"
1
0.007"
-40° to 300°
Beige
0000000
00000
2"
1
0.012"
-40° to 300°
Beige
0000000
00000

Silicone Adhesive

1"
9
0.0035"
-40° to 400°
Beige
0000000
00000
1"
9
0.0065"
-40° to 400°
Beige
0000000
00000
1"
9
0.0115"
-40° to 400°
Beige
0000000
00000
2"
1
0.0035"
-40° to 400°
Beige
0000000
0000
2"
1
0.0065"
-40° to 400°
Beige
0000000
00000
2"
1
0.0115"
-40° to 400°
Beige
0000000
00000