Static Charge Detectors

Locate and accurately measure static charges. This unit detects field potentials up to 30 kV at 1"; higher voltages may be measured at distances greater than 1". A hold button freezes the digital display for recording measurements.
Electrical Resistance Testers for Static Control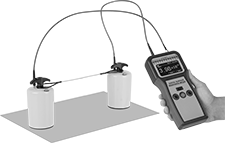 Packaging Probe

Small Parts Probe
Check that your material and work surfaces won't discharge static electricity, which can damage sensitive electronics. These testers are designed to take measurements in accordance with ANSI guidelines for electrostatic discharge control. They measure electrical resistance up to 1×1012 ohms—five orders of magnitude greater than our multimeters.
These testers measure resistance between two points on a surface and from the surface to a ground. To avoid a sudden release of static, resistance should be between 1×106 and 1×109 ohms.
Use the small parts probe (sold separately) to measure resistance on small items or in hard-to-access areas. Use the packaging probe (sold separately) to measure resistance of thin packaging and films.
Resistance,

ohms
Accuracy
Features
Includes
Included
Size

No.


Required
Each
1×103-1×1012
±10%
Battery Life Indicator, Data Memory
1 Alligator Clip, 1 Carrying Case, 1 Ground Plug Adapter, 2 Probe Spacers (10" Lg. and 36" Lg.), 2 Test Leads, 2 Test Probes
Yes
AA
4
000000
000000000