How to

Identify and Measure Fittings
Pipe size is an industry designation, not the actual size. View information about how to measure threaded and unthreaded pipe and pipe fittings.
Medium-Pressure

Pipe Repair Clamps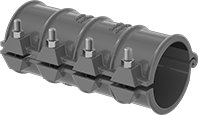 Partial Coverage Gasket
Use these clamps to repair pinholes and cracks in medium-pressure applications. They slip over your pipe, so there's no need to disassemble your system. Choose a clamp that's long enough to cover your damaged area with at least 1" on both sides.
Clamps with partial-coverage gaskets, also known as patch clamps, repair pinholes and small cracks. The gasket on these clamps wraps around as much as 40% of the pipe. Unlike clamps with full-coverage gaskets, you'll need to line up the gasket so it completely covers the damaged area on both sides.
Fluoroelastomer gaskets resist most chemicals. They can be used with steam and other high-temperature applications.
Iron clamps are often called emergency clamps.
For technical drawings and 3-D models, click on a part number.
Buna-N Rubber Gaskets—Partial Coverage
For Use

With:

Air,

Diesel

Fuel,

Hydraulic

Fluid,

Oil,

Water
Temperature

Range:

-20° to 250° F

For Pipe

Material:

Iron,

Steel
For Pipe
OD
For Pipe
Size

Lg.

Max.

Pressure
Material
Each
0.84"

1/2

3

1/4

"
600 psi @ 72° F
Iron
0000000
000000
1.05"

3/4

3

1/4

"
600 psi @ 72° F
Iron
0000000
00000
1.05"

3/4

7

1/2

"
600 psi @ 72° F
Iron
0000000
000000
1.315"
1

3

1/2

"
600 psi @ 72° F
Iron
0000000
00000
1.66"
1

1/4

3

3/4

"
600 psi @ 72° F
Iron
0000000
000000
1.66"
1

1/4

8

1/2

"
500 psi @ 72° F
Iron
0000000
000000
1.9"
1

1/2

4"
600 psi @ 72° F
Iron
0000000
000000
1.9"
1

1/2

9"
500 psi @ 72° F
Iron
0000000
000000
2

3/8

"
2

4

1/4

"
600 psi @ 72° F
Iron
0000000
000000
2

3/8

"
2

10"
500 psi @ 72° F
Iron
0000000
000000
2

7/8

"
2

1/2

4

1/2

"
600 psi @ 72° F
Iron
0000000
000000
3

1/2

"
3

4

3/4

"
500 psi @ 72° F
Iron
0000000
000000
3

1/2

"
3

11"
400 psi @ 72° F
Iron
0000000
000000
4

1/2

"
4

6"
500 psi @ 72° F
Iron
0000000
000000
4

1/2

"
4

12"
300 psi @ 72° F
Iron
0000000
000000
6

1/4

"
6

14"
300 psi @ 72° F
Iron
0000000
000000
6

5/8

"
6

8"
400 psi @ 72° F
Iron
0000000
000000
8

5/8

"
8

9

7/8

"
300 psi @ 72° F
Iron
0000000
000000
10

3/4

"
10

11

7/8

"
200 psi @ 72° F
Iron
0000000
000000
Fluoroelastomer Rubber Gaskets—Partial Coverage
For Use

With:

Air,

Coolant,

Diesel

Fuel,

Hydraulic

Fluid,

Natural

Gas,

Oil,

Steam,

Water
Temperature

Range:

-40° to 450° F

For Pipe

Material:

Stainless

Steel,

Iron,

Steel,

Aluminum,

PVC

Plastic,

Copper
For Pipe
OD
For Pipe
Size

Lg.

Max.

Pressure

Max.

Steam Pressure
Material
Each
0.84"

1/2

3

1/4

"
600 psi @ 72° F
600 psi @ 300° F
Iron
0000000
0000000
1.05"

3/4

3

1/4

"
600 psi @ 72° F
600 psi @ 300° F
Iron
0000000
000000
1.315"
1

3

1/2

"
600 psi @ 72° F
600 psi @ 300° F
Iron
00000000
000000
1.66"
1

1/4

3

3/4

"
600 psi @ 72° F
600 psi @ 300° F
Iron
00000000
000000
1.9"
1

1/2

4"
600 psi @ 72° F
600 psi @ 300° F
Iron
00000000
000000
2

3/8

"
2

4

1/4

"
600 psi @ 72° F
600 psi @ 300° F
Iron
00000000
000000
2

7/8

"
2

1/2

4

1/2

"
600 psi @ 72° F
600 psi @ 300° F
Iron
00000000
000000
3

1/2

"
3

4

3/4

"
500 psi @ 72° F
500 psi @ 300° F
Iron
00000000
000000
4

1/2

"
4

6"
500 psi @ 72° F
500 psi @ 300° F
Iron
00000000
000000