Medium-Pressure

Pipe Repair Clamps
Use these clamps to repair pinholes and cracks in medium-pressure applications. They slip over your pipe, so there's no need to disassemble your system.
For technical drawings and 3-D models, click on a part number.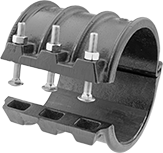 For Use

With:

Coolant,

Diesel

Fuel,

Natural

Gas,

Oil,

Water
Temperature

Range:

-20° to 250° F

For Pipe

Material:

Iron,

Steel
Iron clamps are often called emergency clamps.
For
Pipe
OD
For
Pipe
Size

Lg.

No.


of
Bolts

Max.


Pressure
Nut
Material
Bolt
Material
Gasket
Material
Each
0.84"

1/2

3

1/4

"
2
600 psi @ 72° F
Electroplated Steel
Electroplated Steel
Buna-N Rubber
0000000
000000
1.05"

3/4

3

1/4

"
2
600 psi @ 72° F
Electroplated Steel
Electroplated Steel
Buna-N Rubber
0000000
00000
1.315"
1

3

1/2

"
2
600 psi @ 72° F
Electroplated Steel
Electroplated Steel
Buna-N Rubber
0000000
00000
1.66"
1

1/4

3

3/4

"
2
600 psi @ 72° F
Electroplated Steel
Electroplated Steel
Buna-N Rubber
0000000
00000
1.9"
1

1/2

4"
2
600 psi @ 72° F
Electroplated Steel
Electroplated Steel
Buna-N Rubber
0000000
00000
2

3/8

"
2

4

1/4

"
2
600 psi @ 72° F
Electroplated Steel
Electroplated Steel
Buna-N Rubber
0000000
00000
2

7/8

"
2

1/2

4

1/2

"
2
600 psi @ 72° F
Electroplated Steel
Electroplated Steel
Buna-N Rubber
0000000
00000
3

1/2

"
3

4

3/4

"
2
500 psi @ 72° F
Electroplated Steel
Electroplated Steel
Buna-N Rubber
0000000
000000
4

1/2

"
4

6"
2
500 psi @ 72° F
Electroplated Steel
Electroplated Steel
Buna-N Rubber
0000000
000000
6

5/8

"
6

8"
3
400 psi @ 72° F
Electroplated Steel
Electroplated Steel
Buna-N Rubber
0000000
000000
8

5/8

"
8

9

7/8

"
3
300 psi @ 72° F
Electroplated Steel
Electroplated Steel
Buna-N Rubber
0000000
000000
10

3/4

"
10

11

7/8

"
4
200 psi @ 72° F
Electroplated Steel
Electroplated Steel
Buna-N Rubber
0000000
000000