Carts with Outlet Strips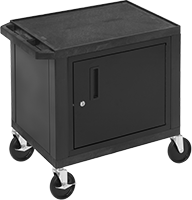 C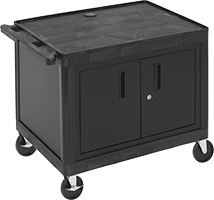 D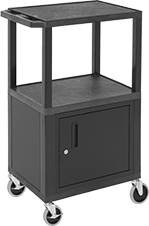 E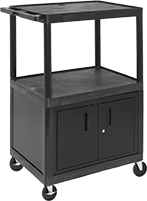 F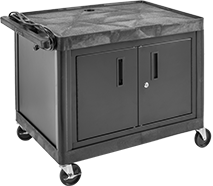 J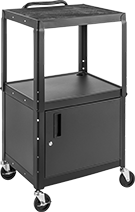 K
Also known as A/V and audio/visual carts, these carts come with a 15-amp outlet strip and power cord.
Adjustable Style B and E carts have additional frame pieces that can be swapped in to change the height of the shelves.
Polyethylene carts are lightweight and resist dents and corrosion. Steel carts are heavier and more durable than plastic carts. Enclosed carts have a door with a lock.
Carts with a slip-resistant surface prevent items from sliding. Carts with an adjustable top shelf require some assembly to adjust the height.
Style A-K carts have four swivel casters for easy maneuvering and wheel brakes to prevent the cart from rolling.
Solid plastic wheels work best on smooth surfaces. Rubber tread-on-core wheels have a hard core for strength surrounded by a shock- and sound-absorbing tread for a cushioned ride on all surfaces.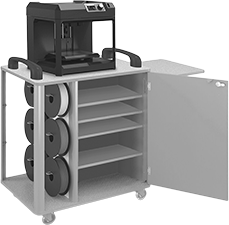 Organize all your 3D printing tools and supplies in one mobile workstation. These carts are sized to fit most desktop printers and have plenty of storage for filaments, cutters, brushes, and coatings. Use the six hooks to store filament spools. The lockable cabinet has removable shelves so you can make room for large items. Four swivel casters let you steer your printer where you need it, and wheel brakes keep it in place while you work.
Cap.

Wd.

Dp.

Ht.

No.


of

Cap.

Profile

Wd.

Dp.

Clearance


(Location)

Lock
Included
Wheel
Configuration
Brake
Type
Caster
Mount
Type
Assembled
or
Unassembled
Each

Rubber

Tread-on-Core

Wheels

Not Rated
48"
21"
34"
4
Not Rated
Flush
18"
18"
3

1/2

" (Top)
3

1/2

" (Top)
6

3/4

" (Bottom)
6

3/4

" (Bottom)
Yes
Four Swivel Casters
Wheel Brake

Replaceable
Unassembled
000000
0000000