Enclosure Intake and Exhaust Hoods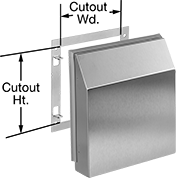 These hoods keep your enclosure watertight, even around intake and exhaust cutouts. The silicone seal shuts out water and dust, while the slanted top lets water roll off. When used over fans or vents rated IP54 or higher, hoods meet IP56 and NEMA 4X to help protect your electronics from wet and corrosive environments, dust, and washdowns. They also meet American, Canadian, and European safety standards.
Screw the mounting bracket around your fan or vent, then clip the hood on. Pop it off for cleaning, changing filters, and other maintenance.
Height
Width
Height
Width
Depth
Material
Environmental
Rating
Mounting
Fasteners
Included
Number
of
Diameter
Specifications
Met
Each
5

1/2

"
5"
8

3/8

"
7

5/8

"
1

7/8

"
Stainless Steel
IP56, NEMA 4X
No
4
0.15"
CE Marked, C-UL Recognized Component, UL Recognized Component
0000000
0000000
6

3/4

"
6

1/4

"
11"
8

7/8

"
2

1/4

"
Stainless Steel
IP56, NEMA 4X
No
4
0.15"
CE Marked, C-UL Recognized Component, UL Recognized Component
0000000
000000
9

1/4

"
8

1/2

"
14

1/8

"
11

5/8

"
2

5/8

"
Stainless Steel
IP56, NEMA 4X
No
6
0.15"
CE Marked, C-UL Recognized Component, UL Recognized Component
0000000
000000
11

3/8

"
11

1/4

"
16

3/8

"
14

1/2

"
3"
Stainless Steel
IP56, NEMA 4X
No
6
0.15"
CE Marked, C-UL Recognized Component, UL Recognized Component
0000000
000000
13

3/8

"
12

3/4

"
19

1/8

"
16

1/8

"
4"
Stainless Steel
IP56, NEMA 4X
No
6
0.15"
CE Marked, C-UL Recognized Component, UL Recognized Component
0000000
000000